KKKL Express Bus Ticket Booking
KKKL Express is one of the most prominent bus service providers in Singapore. KKKL Express was established in Malaysia, and its subsidiary KKKL Travel and Tours is now functional in Singapore. They cover multiple routes within Singapore. However, most of their buses are premium offerings where they have 27 seats.
If you take a KKKL bus, the bus will make one pitstop during the journey. This ensures that all passengers get their washroom breaks and the trip can go uninterrupted. They also offer several tour packages to some of Singapore and Malaysia's most popular tourist destinations. With KKKL Express you can book a bus from Singapore to Malaysia , travel to Thailand, and Hatyai.

Amenities
The buses have both air-conditioned and non-air-conditioned variants, and you can choose either based on your budget.
There are 27 seats in one KKKL bus, and all buses have extra legroom. You will also get an additional luggage space if you book a KKKL bus ticket online using the redBus app.

Popular Routes Covered
The Singapore to Kuala Lumpur bus is very popular for KKKL bus company. The bus stops at Chinatown, located at the heart of Kuala Lumpur. The bus also travels to Melaka Sentral and Genting Highlands from Singapore.
Some of the popular routes covered by KKKL Express buses are:
Genting Highlands to Singapore
Singapore to Port Dickson
For an exhaustive list of routes where the KKKL buses operate, you can check the redBus app.
Popular Bus Terminals
KKKL Express buses stops at different bus terminals. Some of these bus terminals include:
You can check these bus terminals and select the ones relevant for your trip while booking your KKKL express bus ticket online. Be it coach bus, express bus, or luxury buses, redBus provides an easy interface for online ticket booking.

Steps to Book a KKKL Bus Ticket on redBus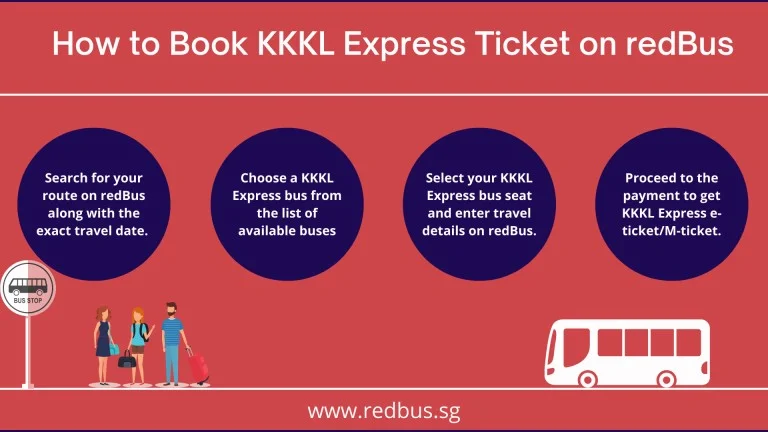 Be it Bus to KL, Bus to Melaka or KL to Singapore bus, KKKL Express has got you covered. To travel with KKKL Express bus, log on to redBus.sg and book your KKKL bus ticket. Now redBus customers can securely book KKKL bus tickets with debit card, credit card and net banking. All passengers are eligible to ongoing time to time deals and offers and and make sure they have a discounted journey with us. New Users get to enjoy upto 50% off with code SGNEW.