Firstcoach Bus Ticket Booking
About Firstcoach

With its commencement in the year 2004, Firstcoach began its operation, having only a small number of tips daily. Initially, the operator mainly provided services for luxury buses. Firstcoach now has a fleet of 57 buses. However, Firstcoach has been covering and panning networks across a large number of cities within Singapore and Malaysia. This has helped the company earn popularity as well as respect in the world of travel. Firstcoach promises to offer its passengers a comfortable and satisfactory journey and is known for keeping this promise.

Firstcoach is known for being punctual, following schedule, being safe, and most importantly, being attentive to its passenger's needs. It provides passengers with a wide range of amenities, including air conditioning and televisions for each passenger. Firstcoach staff members are friendly and approachable. Booking a Firstcoach bus is made easier with the help of reliable online booking services. Firstcoach online booking can be made with the help of redBus.


Amenities on the Firstcoach

Firstcoach brings forth all the necessary amenities required to travel on a bus.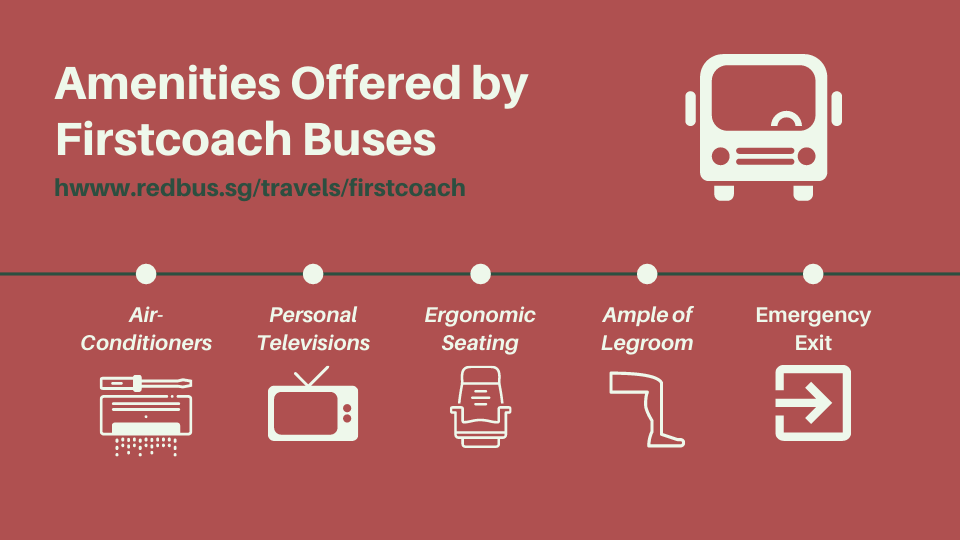 Some of the most commonly found amenities inside Firstcoach buses are:
Air-Conditioners

Personal Televisions

Ergonomic Seating

Ample of Legroom

First –Aid

Emergency Exit



Passengers can check these amenities on the redBus app.

Popular Travel Routes

Firstcoach Buses have expansive coverage all across Malaysia and Singapore. The buses connect almost all big and small cities to each other. Passengers can commute from one location to another with luxury and comfort at an affordable price with the Firstcoach. Following are some of the most popular routes covered by Firstcoach:

Passengers can check the bus schedule and book their Firstcoach Online tickets for these routes through the redBus app with real convenience and great offers.


First Coach - Major Routes and Details
Some of the major routes run by First Coach buses are listed below with their details around the average price, operational timings, and pickup points.
Route: Malaysia to Singapore
Average price: SGD 24 for Adults and SGD 12 for Children
Pickup points: Bandar Utama, Subang Parade

Route: Singapore to Malaysia
Average price: SGD 36 for adults and SGD 18 for children
Pickup points: Novena Square, Star Vista
Popular Cities Covered
Firstcoach Buses cover a huge span of land and create a reticulate network for the passengers. Firstcoach covers almost all the major cities, and certain cities are traveled the most by these buses. Some of these popular cities served by Firstcoach are:
These cities are demanded the most by the passengers; therefore, passengers must make their time booking through the redBus app. Passengers must note that bus timings, routes, and fares are subject to change. Please check locally for any last-minute changes.

Visit www.redbus.sg to know more about how to have a stress-free and comfortable journey by booking a bus ticket online in Singapore.
Disclaimer: Bus timings, routes, and fares are subject to change. Please check the redBus app or website for any last-minute changes.