Singapore Bus Tickets
Singapore is the kind of city that will lure you into having the best vacation of all time. The city is packed with so many activities to enjoy and explore and is a magical land where fun never stops! With so many family-friendly attractions present in every corner of the city, this is a place that will never disappoint you, and the best way to get to these attractions is through Singapore buses. SG buses are the most convenient and affordable travel option that will take to every corner of the city!
Getting in and around Singapore via Bus
The bus system in Singapore has an extensive and complex network of Singapore bus routes that cover most places in the country. Singapore buses are not only one of the most economical ways to get around the city, but is also considered to be the most scenic option, where you and your family can indulge in air-conditioned comfort and admire the beautiful architecture and the lush greenery of the "city in a garden".
For first-time visitors, buses are highly recommended since it allows you to take in the sights of Singapore. A few popular terminals that are mostly used to get in and around Singapore are the Changi Airport Bus Terminal, Buona Vista Bus Terminal, Marina Centre Bus Terminal, Upper East Coast Bus Terminal, and Queen Street Bus Terminal.
Bus fares, Singapore tickets can be paid using the Singapore Tourist Pass (STP) or the smartcard (Nets FlashPay/ EZ-link). As you get onboard, look for the electronic card reader present near the bus driver, and give it a tap. People can also use Visa contactless bank cards and Mastercards issued outside Singapore to pay for their bus tickets. Remember, each time you exit the bus, tap the card again on the reader. Tickets can also be paid for in cash, but you will have to ensure that you have the exact ticket price in change.
Pick-up and Drop-off Points for buses to Singapore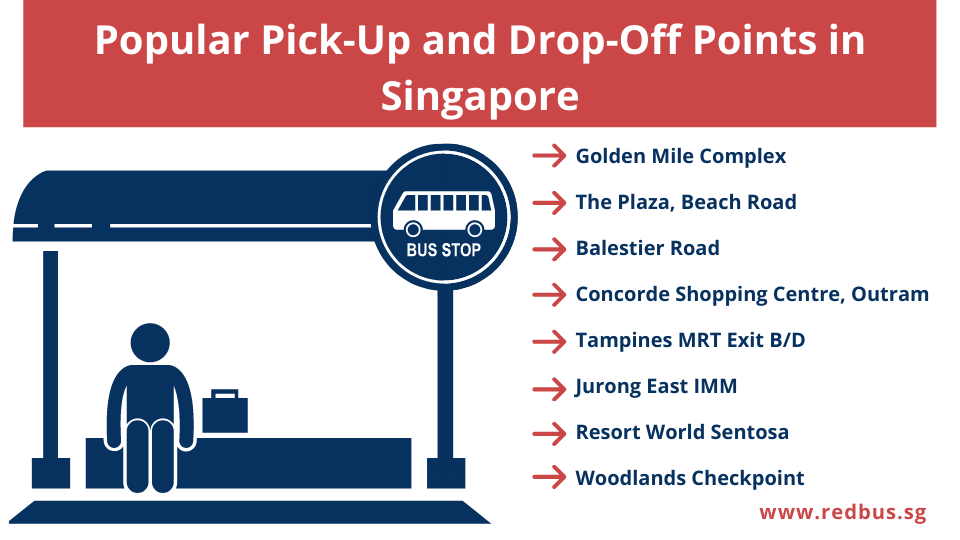 Travelling through buses is one of the easiest ways to get to neighbouring countries like Malaysia and Thailand from Singapore. You will also get to choose your pick-up and drop-off points. A few pick-up and drop-off points located in Singapore are:
The Plaza, Beach Road.

Balestier Road.

Concorde Shopping Centre, Outram.

Tampines MRT Exit B/D.

Jurong East IMM.

Resort World Sentosa.

Woodlands Checkpoint.
Most Singapore buses going in and around the city use these boarding and drop-off points. However, based on the bus operator and the Singapore bus route you book online, they may vary. Therefore, make sure you check that out and choose the bus you need before booking your Singapore bus tickets online on redBus.
Popular Bus Companies in Singapore
A few popular Singapore bus operators are:
1. 707- Inc
This is one of the most popular SG bus companies that provide services at very affordable rates. These buses run in so many Singapore bus routes that a lot of tourists and locals use every day, connecting the major attractions of Singapore. Therefore, no matter where you want to get to in Singapore, 707-Inc will be there to be your travel solution. Their average bus fare, Singapore, is around $12.
2. Golden Coach
Golden Coach is a well-established bus company that provides services in many Singapore bus routes. They also provide services to various cities in Malaysia and to many popular tourist spots in the country, making it one of the most convenient options for tourists in Singapore. Their average bus fare, Singapore, is around $22.
3. StarMart Express
StarMart Express is a leading SG bus operator that provides services to many parts of the city through many Singapore bus routes. They provide SG bus services from major bus terminals and stops like the Golden Mile Complex, City Plaza, Park Royal Singapore, and Seremban Bus Terminal.
The quickest and easiest way to book your SG bus tickets for these operators is through redBus. It also provides you with the real and most affordable bus fare Singapore tickets.
Things to do in Singapore
Singapore is packed with attractions and activities you must see and explore!
1. Marina Bay
Singapore's most popular Marina Bay is one of the first places you must go to during your vacation. The focal point of the bay is Marina Bay Sands Complex, and there are so many amazing things that revolve around it, including casinos, science museum, shopping centres, dining options, and fun nightlife options.
2. Chinatown
Your trip to Singapore would be incomplete without exploring Chinatown. It is a great shopping area, where you could get the cheapest souvenirs and have delicious authentic Chinese food.
3. Universal Studios Singapore
Universal Studios Singapore was one of the first amusement parks of its kind in Southeast Asia. It has over 20 attractions and various themes including Ancient Egypt, Lost World, Madagascar, Hollywood, New York, and Far Far Away.
4. Sungei Buloh Wetland Reserve
The Sungei Buloh Nature Park is a regional stepover for various species of birds migrating from the north to the south and is a great place for bird-watching. This is only an hour away from the city, and it gives you an idea of the mangrove swamps that the country was once surrounded in.
Complete with family-friendly attractions, delicious dining options, and thrilling activities, let Singapore be your next vacation destination! Get amazing deals on your bus fare Singapore tickets and book your bus tickets online on redBus!