Golden Coach Bus Ticket Booking
Golden Coach is a well-established bus operator that provides services across cities in Malaysia and Singapore. The headquarters of Golden coach is currently located at the Concorde Shopping Centre, Singapore, near the Outran Park MRT Station, Tiong Bahru MRT station, and Chinatown MRT station. Other branches are also present throughout Singapore, and these are top pick-up points since the locations are near other terminals of public transportation that most people use.
Golden Coach Express provides bus services from various points in Singapore like Concorde Hotel, Golden Mile Tower, Boon Lay, etc. They offer various cross-border routes to Malaysian cities like Kuala Lumpur, Seremban, Ipoh, Malacca, etc

Golden Coach is a relatively new company to the tour and transport industry in Singapore with a decade of experience in Malaysia. Despite being a recent company in Singapore, it has established itself well among the commuters. They provide services in all the significant points in the city where the public frequents more. It is the only bus operator that operates service between Singapore and Kuala Lumpur International Airport.
Though compared to most other operators, the company is new to the Singapore bus industry; they still have over a decade of experience providing the best bus services to passengers during their journey. Therefore, save the hassle of taking a flight to Kuala Lumpur and then taking a bus to Port Dickson, when you can simply hop on a Golden coach from Singapore that takes you directly to your destination!
Why Choose Golden Coach Bus Services?
When you think of comfortable buses, the name 'Golden Coach' stands out. All the buses are designed in a way to provide maximum journey satisfaction to the passenger.
Golden Coach Express Bus offers a convenient and affordable bus service that runs on fixed schedules, connecting major cities and towns in Singapore, Malaysia, and Thailand.
One of the best options for booking bus ticket online for Singapore to Kuala Lumpur International Airport.
Golden Coach Bus offers 3 varieties of buses that you can select according to your budget:
Golden Coach Executive
SVIP
Standard buse


Amenities Offered by Golden Coach
The fleet of Golden Coach Express buses includes modern coaches that are equipped with comfortable seating, AC, and other luxuries. The buses come in various sizes to cater to different group sizes and travel needs, ranging from 18-seater minibuses to 44-seater coaches.
Golden Coach Express Buses operate daily on fixed scheduled routes. You can opt for Golden Coach online booking or through authorized agents and select your preferred seat on the bus. The buses depart and arrive at designated bus terminals or pick-up points, with stops at major cities and towns along the way.
The seating arrangement of most Golden Coach Buses is designed in a 2-1 format. The Golden Coach has a few other amenities that ensure every journey is enjoyable and pleasurable. Some of these amenities include:
Air conditioning
Reclining seats
Charging points
Reading lights
TV
In addition, every single seat on the buses has spacious leg rooms to enhance the comfortability and satisfaction of the customers. These excellent services make sure the trip is memorable for every passenger.
Popular Routes Served by Golden Coach

Golden Coach is the only express bus operator that provides express bus service from Singapore to KLIA (Kuala Lumpur International Airport), and it is one of the most popular routes. Boarding points also include Golden Coach City Plaza, Alor Gajah Toll, Port Dickson, Kuala Lumpur, Malacca, Sungai Siput, and Ipoh.
When booking your bus ticket online, all you have to do is know which boarding and drop-off point you require, and based on that; you can check the buses' availability and timings on that route.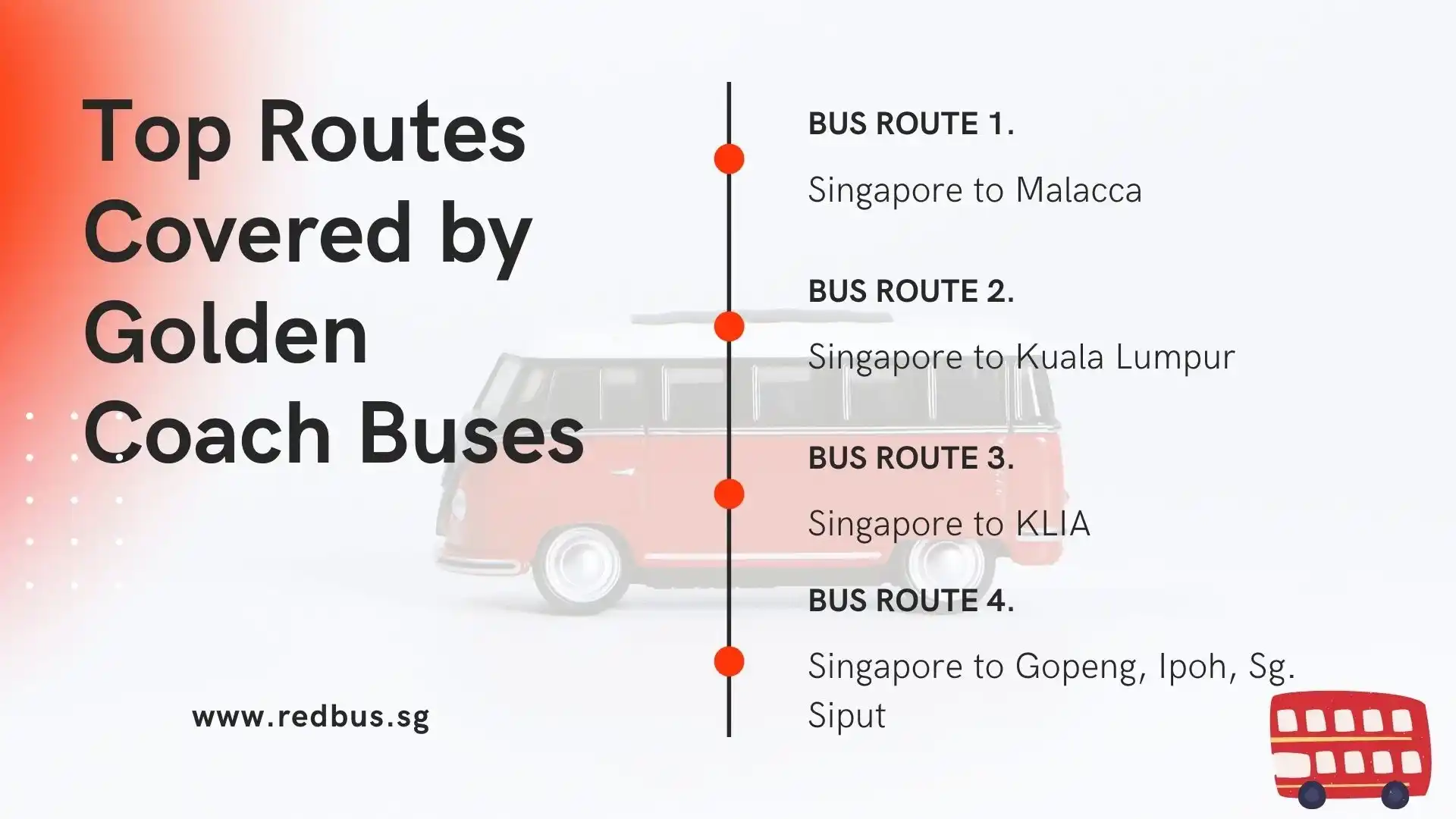 The Golden Coach bus operator offers a well-connected service and takes passengers through almost every popular route. Some popular routes the buses operate on are:
Popular Cities Served
Golden Coach Express bus connects cities across Malaysia and Singapore and provides the best travel experience for their passengers. Some of the most popular cities it goes to are:
Golden Coach takes passengers to other towns and less popular regions. It also takes people to various tourist attractions, making this one of the most reliable ways to get to places during your vacation.
To travel with Golden Coach, log on to redBus Singapore, check out the seat availability to various locations before booking bus online. redBus customers can securely book Golden Coach tickets with debit card, credit card and net banking. All passengers are eligible to ongoing time to time deals and offers and make sure they have a discounted journey with us. You can check redBus promos for details on offers on bus ticket online booking.

Disclaimer: Bus timings, routes, and fares are subject to change. Please check the redBus app or website for any last-minute changes.