Booking Bus Tickets Online with redBus
Singapore is a country of diversity, history, adventure, and progress. It is considered as one of the topmost countries in Asia for working and living. Many people come here for various opportunities, and a lot of travel happens within different parts of the country. Online travel services like redBus make travel to and from Singapore much easier and affordable for people. One can now book an online bus ticket with a click of a mouse and be ready to go to their destination.
Why Book Bus Tickets with redBus Singapore?
Although there are many modes for transportation in Singapore, when it comes to convenience there is nothing better than a bus. Buses come with various amenities and services that cater to different needs of the passengers. There are various types of buses from AC to Non AC, single deck, double deck, and more that one can choose from. Buses are also cheaper than other travel options like flights, taxis, cars, etc. You even don't have to hire a driver to travel as in the case of cars. So, you save more money. With the booking of bus ticket online, passengers can also avoid standing in queues as they can directly board the bus using their e-ticket or m-ticket.
Popular Bus Operators in Singapore
There are various bus operators offering bus travel services in Singapore. Some of the popular ones are: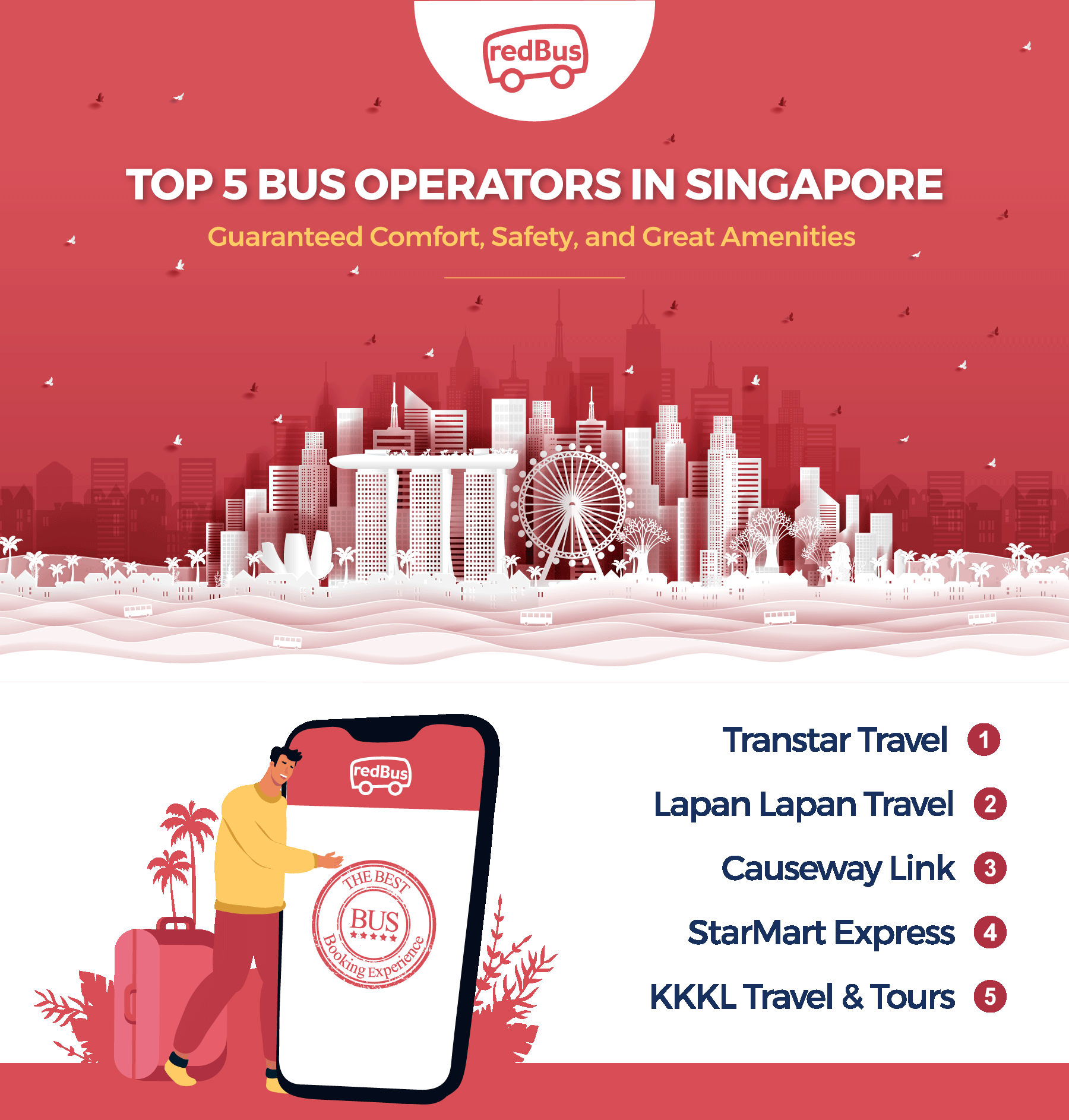 Causeway Link: Causeway Link is counted among the most convenient bus operators. Their luxury coaches are fully air-conditioned and well-maintained and offer a comfortable travel journey to passengers.


Delima Express: Delima Express is a renowned bus operator that transports thousands of passengers every year with its single deck buses of 40 seats. The bus operator strives to offer the best travelling experience for its passengers.


Plusliner: Popularly known as the 'King of Highway' Express, Plusliner is a leading bus service in Singapore and Malaysia. It has a large inventory of buses from xtreme to standard, seater, and economy.


Firstcoach: Firstcoach is a trusted bus operator owned by people with more than 30 years of experience in the travel industry. Firstcoach has 9-10 buses that accommodate passengers of every need and budget.


Starmart Express: Starmart Express is an affordable bus operator with years of travelling experience on bustling roads of Singapore, Malaysia, and Thailand. It has a diverse range of buses from Super VIP to economy and seater.


WTS Travel City Holidays: WTS Travel City Holidays is a prominent bus operator that offers travel services to various cities day in and day out. They have a fleet of more than 65 buses that is always ready to serve its passengers.



Amenities Offered by Bus Operators in Singapore
Bus operators in Singapore offer various amenities to passengers on the bus to make their journey as comfortable as possible. Some of these amenities include:
Newspaper
Personal TV
Music
Wi-Fi
Bus Tracking
Pillow
Reading Light
Recliner Seats
M-ticket/E-ticket
Bathroom
Emergency Exit
Fire Extinguisher
Customer Support


Popular Routes in Singapore
The most popular bus routes to and from Singapore are:
Singapore to Kuala Lumpur: The distance between Singapore to Kuala Lumpur is 354.7 km which can be easily covered by a bus in 3 hours and 59 minutes. The first bus is at 00:45, and the last bus is at 23:59.


Singapore to Johor Bahru: The 25.1 km distance between Singapore and Johor Bahru is usually covered in 39 mins by a bus. The timing of the first bus is 7:10, and that of the last bus is 23:59.


Singapore to Berjaya Times Square: Singapore to Berjaya Times Square distance is around 351 km and takes about 3 hours and 54 minutes. The first bus on the route is at 00:45, and the last one is at 23:59.


Singapore to Malacca: Singapore to Malacca bus route distance is 239.1 km and takes about 3 hours and 12 minutes. The first bus on the route is at 07:00, and the last one is at 23:01.


Johor Bahru to Singapore: The Johor Bahru to Singapore bus route distance is 23.3 km and can be covered in 36 minutes. The first bus time is at 04:45, and the last is at 22:00.


Woodlands Checkpoint to Singapore: The distance between Woodlands Checkpoint and Singapore is 16 km and takes about 23 minutes to cover. The first bus on this route is at 06:00, and the last bus is at 22:30.


Kuala Lumpur to Singapore: The 350.1 km distance from Kuala Lumpur to Singapore is covered in 3 hours and 50 minutes by a bus. The first bus on the route is at 07:00, and the last bus is at 23:59.


Malacca to Singapore: The distance between Malacca and Singapore is around 240.6 km and takes about 3 hours and 3 minutes to cover by a bus. The timing of the first bus on the route is at 06:30, and that of the last bus is at 23:45.


The bus fare on all these routes varies depending on the type of bus booked and the bus operator chosen. Passengers are provided with all the details about the bus during the online bus booking on the redBus app and website to help make an informed choice.
Popular Places to Visit in Singapore
Universal Studios Singapore: Universal Studios Singapore is one of the most fun-filled adventure parks all over the world. It has 7 famous theme zones and 24 rides for both children and adults to enjoy.


River Safari Singapore: River Safari Singapore is the only river-themed wildlife park in Asia. It has a wide variety of animals with red pandas being the most famous among them.


Gardens By The Bay: Gardens By The Bay is an award-winning horticulture site comprising Bay East Garden and Bay South Garden. It has a mesmerizing waterfront and several species of trees rising as a vertical garden.


Marina Bay: Marina Bay is Singapore's one of the finest architecture. It has an ultra-luxury hotel, high-scale shopping complexes, and the finest dining places to offer you a fabulous recreational experience.


S.E.A. Aquarium: S.E.A. Aquarium houses more than 1,000 marine life species with 1,00,000 aquatic animals to view and enjoy a sea walking experience



Online Bus Booking with redBus


Booking a bus ticket online through redBus follows just a few simple steps:


Enter your travel details: Start by entering details like departure point, destination, date of journey and enter. You can also change the details through the 'modify' button.


Filter buses: You can apply filters such as departure time, pick-up and drop-off points, and coach company so that you can only see the buses of your preference.


Choose your bus and seat: Select the bus and a suitable seat, fill in all the passenger details and head to the 'payment' section.


Pay the ticket price: There are numerous payment options available at redBus. You can pay through ATM transfer, or by using your Credit Card, Debit Card, or PayPal account.


Once the payment is done, your passenger details along with the confirmation would be sent to your email address and registered phone number. You will have to download the m-ticket on your mobile device and bring the same on the day of your departure while boarding the bus. Booking an online bus ticket is that easy with redBus!



Payment Options Available


redBus offers various payment options to its customers for booking their online bus ticket. Customers can choose as per their convenience among the following payment options for bus booking:


Net banking
Credit card
Debit card
Digital wallets


Advantages of Booking a Bus with redBus


With over 180 million trips booked on the redBus app and website, redBus offers a user experience like no other. Commanding the bus ticket industry in 6 countries (India, Singapore, Malaysia, Indonesia, Peru, and Colombia), redBus strives to provide the best experience when booking a bus ticket online. With redBus, there's no need to queue up at the counter as you can pick up from thousands of bus routes and bus operators from the comfort of your home.


Book your bus ticket online from the comfort of your home by using the redBus app or website and avail exclusive offers and discounts today!