Booking Bus Tickets Online with redBus
Booking bus tickets online is, indeed, one of the best options when someone is looking to explore Singapore and neighboring countries by bus. Gone are the days when the only way to avail bus tickets was by standing in a queue or contacting the ticket agents multiple times. The online bus ticketing system has enabled all the travelers to travel in and around Singapore by bus in the easiest way possible. From Gardens by the Bay to Sentosa Beach, Singapore offers a number of attractions for tourists. Most of the tourist attractions in Singapore are connected well by roadways, making it easier for people to explore them by booking a bus ticket online.

Trusted by more than 17 million travelers and associated with 2300 bus operators worldwide, redBus is the best platform to book an online bus ticket in Singapore. A large number of popular bus operators such as StartMart Express, Transnasional Bus, Transtar Travel, Causeway Link and more offer their bus service on the island through redBus. Buses are the most significant part of Singapore's transport system as over 4 million bus rides are taken per day. By booking bus tickets through redBus, one can explore different parts of the island in the most affordable and convenient way.

redBus, Singapore website and app are designed in the way that passengers can get all the useful information about buses and bus booking process here. While one can get all the necessary information for the travel such as bus route, bus fare, bus schedule, pick-up and drop-off points etc., one also gets to choose the best bus operator after looking at the amenities they offer. With redBus, one can also book bus tickets to the neighboring countries like Indonesia and Malaysia.

Online Bus Booking with redBus

Booking a bus ticket online through redBus follows just a few simple steps: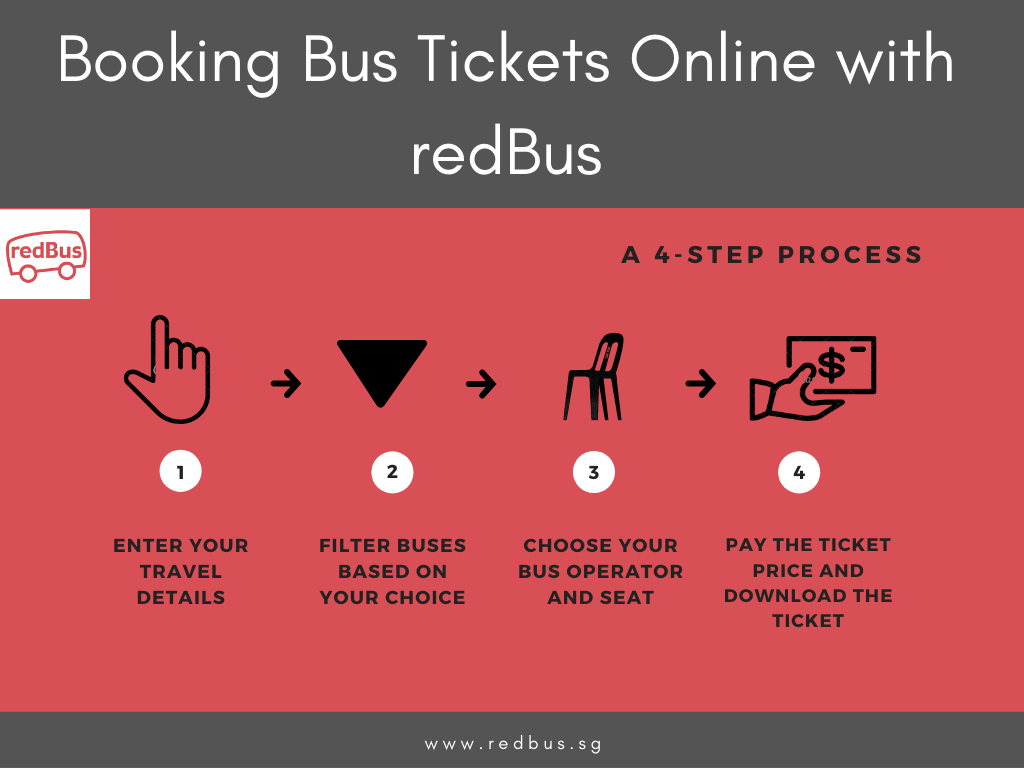 Enter your travel details: Start by entering details like departure point, destination, date of journey and enter. You can also change the details through the 'modify' button.

Filter buses: You can apply filters such as departure time, pick-up and drop-off points, and coach company so that you can only see the buses of your preference.

Choose your bus and seat: Select the bus and a suitable seat, fill in all the passenger details and head to the 'payment' section.

Pay the ticket price: There are numerous payment options available at redBus. You can pay through ATM transfer, or by using your Credit Card, Debit Card, or PayPal account.

Once the payment is done, your passenger details along with the confirmation would be sent to your email address and registered phone number. You will have to download the m-ticket on your mobile device and bring the same on the day of your departure while boarding the bus. Booking an online bus ticket is that easy with redBus!

Popular Bus Operators in Singapore

Dedicated to providing the best bus services in Singapore, there are many bus operators to choose from during online bus booking on redBus website or app. Bus operators like Transtar, Lapan Lapan, Causeway Link, Eltabina Jaya, The One Travel and Tours, StarMart Express, and KKKL Travel & Tours are immensely popular among tourists. Most of these operators offer buses from Singapore to Kuala Lumpur, Singapore to Genting Highlands, and other popular destinations in Malaysia.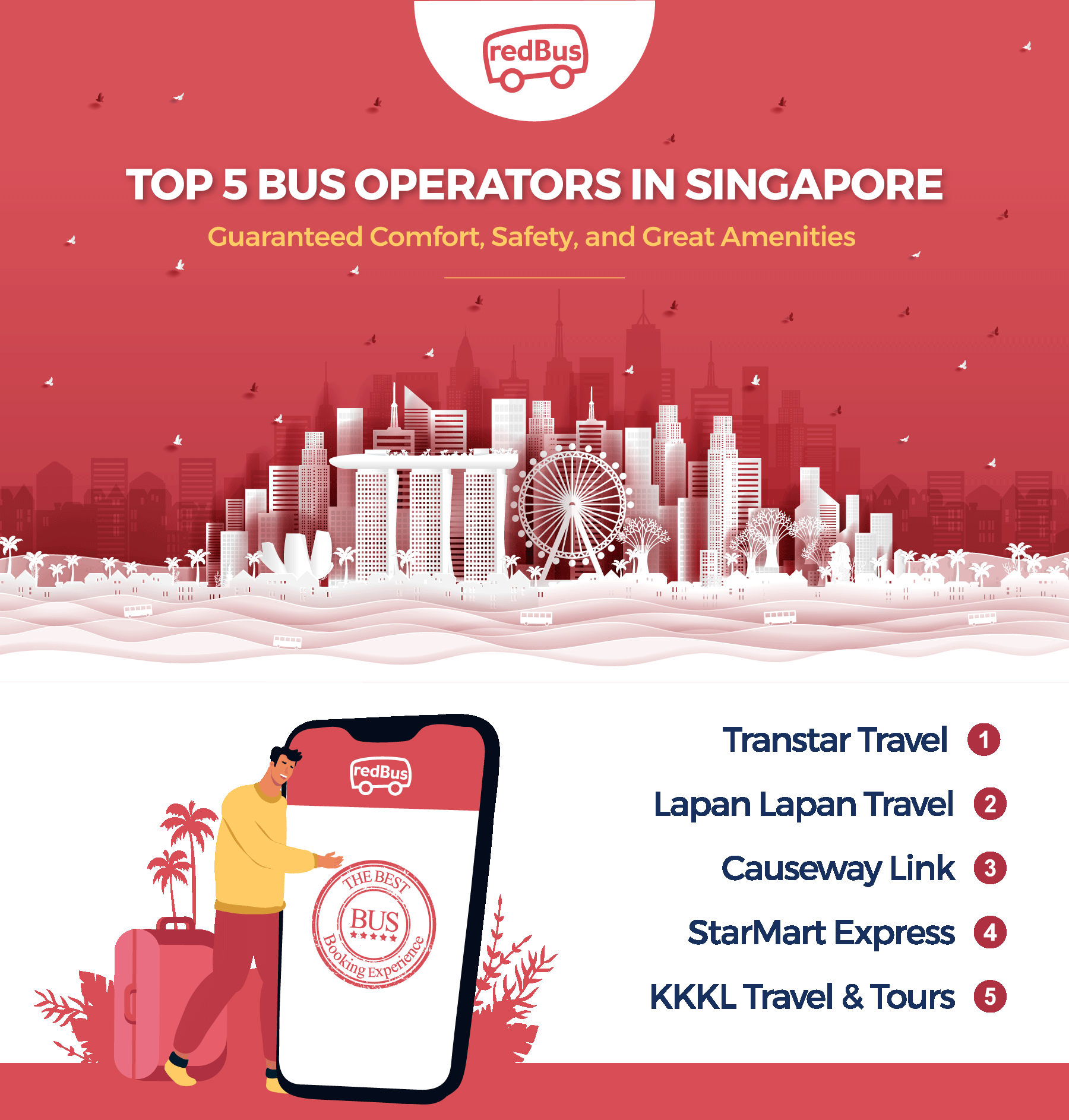 Transtar Travel : Since 1994, Transtar Travel is one of the most popular bus operators in Singapore. Transtar gives more attention to customer comfort and quality of buses.

Lapan Lapan Travel : Lapan Lapan Travel offers buses from Singapore to Malacca, TBS, and Ipoh in Malaysia.

Causeway Link : With the head office in Johor Bahru, Malaysia, Causeway Link is one of the best bus operators providing services on Singapore-Malaysia route.

StarMart Express : Offering its bus services regularly across Singapore and Malaysia, StarMart Express started operating in 1989.

KKKL Travel & Tours : KKKL Travel and Tours is a subsidiary of KKKL Express and offers buses on Singapore to Kuala Lumpur routes.
Transnsional Bus: Transnasional bus tickets are easily available in Singapore as it is one of the popular bus operators in Singapore and Malaysia serving major cities.

One of the kinds of buses that are gaining popularity in Singapore are Express buses. Operators like Konsortium and Causeway Link offer express buses in Singapore that are known for their wonderful amenities and service. One can check several facilities offered by operators on a bus route while booking bus tickets online. There are several categories of buses offered that people can choose to travel in such as Express Buses, Shuttle Buses, Coach Buses, and many more. The amenities provided on most of these buses could include:


LED TV for entertainment purposes

Snacks

Blankets and pillows

Live Tracking

Wi-Fi

Toilets

AC

Charging points




By using the filter option, people can quickly scan and select the bus that can cater to every one of their needs and requirements. redBus offers the best deals and discounts on a wide range of routes as customer satisfaction is the bus portal's top priority.

Top Selling Bus Tickets in Singapore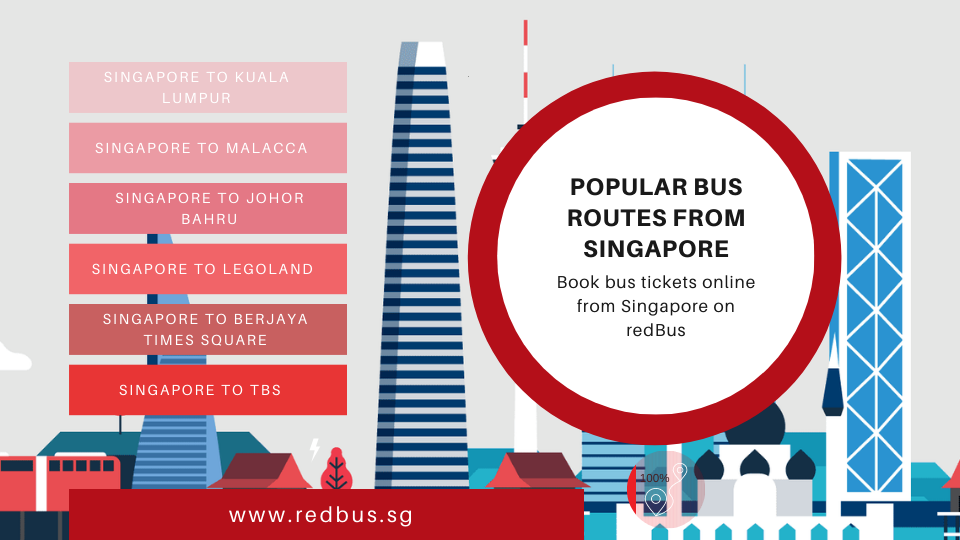 Some of the popular bus routes for booking bus tickets online in Singapore include Singapore to Malacca, Singapore to Kuala Lumpur, and Singapore to Johor Bahru. With numerous pick-up and drop-off points available at each city in Singapore, you can choose the best as per your convenience on the selected route. You can choose the following bus routes while booking bus tickets online through redBus in Singapore:
Top Places to Visit in Singapore
There are numerous places where one can go and truly experience what makes Singapore such an alluring nation. Some of these places that should not be missed are:
Marina Bay

is the most famous attraction in Singapore with great things to do and see around the area like the science museum, shopping, dining, nightlife options, casino, and light shows.

Singapore Flyer

is the world's largest observation wheel from which one can see panoramic views of the city and its various attractions.

Gardens by the Bay

is a huge, colorful, and futuristic park located in the Bay area which has a beautiful skywalk, over-sized seashell-shaped greenhouses, and gardens.

Universal Studios

is the first-ever amusement park of Southeast Asia, with many attractions and themed zones with rides, live shows, etc. for the entertainment of the whole family.

Sentosa

is a purpose-built island located in the Southern tip of Singapore with a collection of theme parks, beaches, golf, shopping, dining, and entertainment.

Merlion: The iconic half-lion and half-fish fountain statue.
Clarke Quay: Popular for nightlife and restaurants.
Jurong Bird Park: Sprawling sanctuary with exotic bird species.
Singapore Zoo Night Safari: Zoo with rainforest settings and night zoo.
S.E.A Aquarium: Exotic Marine life on display.
Advantages of Booking a Bus with redBus
With over 180 million trips booked on the redBus app and website, redBus offers a user experience like no other. Commanding the bus ticket industry in 6 countries (India, Singapore, Malaysia, Indonesia, Peru, and Colombia), redBus strives to provide the best experience when booking a bus ticket online. With redBus, there's no need to queue up at the counter as you can pick up from thousands of bus routes and bus operators from the comfort of your home.
Book your bus ticket online from the comfort of your home by using the redBus app or website and avail exclusive offers and discounts today!