Supernice Grassland Bus Ticket Booking
About Supernice Grassland
Supernice Grassland bus service was established in 1980. Initially, it was named as Comfort Super Nice Express. It has come a long way since then and is one of the largest bus service providers in Singapore. Grassland bus service was started with just one express bus, but now they have a fleet of more than thirty SVIP express buses. They provide bus services in Singapore as well as in the peninsular Malaysia region.
Grassland buses have well trained and professional staff members who work and manage the requests of passengers. They have luxurious bus services and are known for their punctuality. Frequent buses to different cities help tourists/daily commuters to travel at any hour of the day. They also provide all the necessary amenities to their passengers at an economical price. Their buses are equipped with all the safety measures like Disc Brakes, Electronic Brake System, Opticruise Gearbox, Ergonomic Driver Area, etc. Let us see more about Grassland buses.
How to Book a Grassland Bus Ticket on redBus?
redBus provides a rich online medium to book bus tickets. It operated in many countries and is the best online bus booking platform in the world. One can check schedules, timings of buses via redBus. redBus also provides a live bus tracking system, cancellation policy, and ride insurance policy to its users. Let us see the steps to book a bus ticket via redBus:
• Open the redBus mobile application or visit the website.
• You will see 'From', 'To', and 'Date of Journey' sections on the interface. Enter your respective details in those sections and press 'Search Buses'.
• You will be displayed all the available buses on your entered route and date. Select any bus from Supernice Grassland based on your preferences.
• After selecting the bus, you will be displayed the seat layout of that particular bus via the interface. The occupied seats will be marked for your convenience. Select your preferred seat and proceed to book the ticket.
• You will be asked a few details like Name, Contact info., E-Mail ID on the next page. Enter your details in the respective sections and proceed to the payment page.
• You can apply coupon code (if any) to avail discounts. The payment process of redBus is fully secured and trusted. You can make payment via debit cards, credit cards, online wallets, etc. Once you have made the payment, your booking will be confirmed, and you will receive an E-ticket via mail and will also receive an M-ticket via message on your provided mobile number.

History of Supernice Grassland

Grassland bus services were started in 1980 under the name of Comfort Super Nice Express. Since then, Grassland has grown to become one of the biggest bus operators in Singapore. They also enjoy an international presence as they have been providing cross-border bus services for a long time now. They have a staggering fleet size of 30 SVIP buses and provide frequent bus services to various routes. They provide two types of SVIP buses, i.e., 18-seater SVIP buses and 27-seater SVIP buses. Supernice Grassland buses are built with modern safety systems like full air-suspension, EBS (Electronic Brake System), TPM (Tyre Pressure Monitoring), etc.

They provide bus services from Singapore to various Malaysian cities like Kuala Lumpur, Sungai Petani, etc. They also operate from various boarding and dropping points in Singapore to make it comfortable for passengers. They provide various bus amenities on-board like LED light, air conditioners, WIFI, USB charging ports, recline-able seats, etc. They are preferred by tourists as well as by daily commuters for their on-time & safe bus services. They have well-trained drivers and staff members to make your journey better.

They have their headquarters in Singapore and Malaysia as well. You can go to www.supernice.com to know more about their services. You can also submit a query from their website. You can pre-book a Supernice Grassland coach ticket by e-ticketing. The Supernice Grassland Express contact number and office address are mentioned below.

Amenities Offered by Supernice Grassland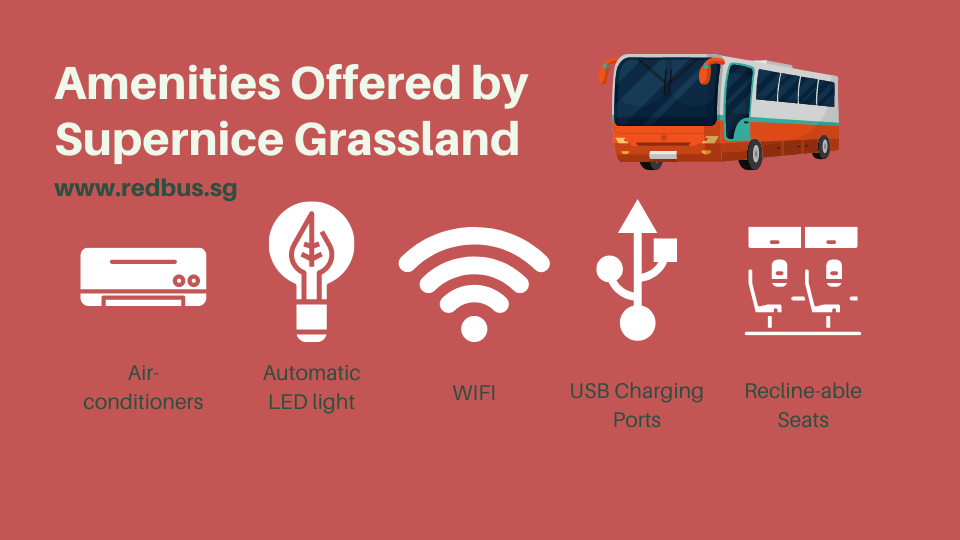 Grassland buses are of SVIP express category. Grassland is an experienced bus service provider who takes care of their passengers' personal belongings and provides all the basic amenities to them. Their buses are equipped with modern-day safety technologies and provide a safe travel experience to their passengers. They have 18 and 27-seater SVIP buses. All the amenities provided by Grassland buses are as follows:
• Air-conditioners
• Automatic LED lighting system at the luggage storage area.
• WIFI
• USB Charging Ports
• Noise-Proof Grassland Coach
• Recline-able Seats
• Reading Light
• Water Bottle
Popular Routes Covered by Grassland Bus
Grassland buses have an international presence providing bus services in the cities of peninsular Malaysia and Singapore. They provide bus services to major cities like Kuala Lumpur (the capital city of Malaysia), Singapore, Klang, Seremban, etc. You can check the timings of the bus via redBus. For example, one can easily find the number of Grassland bus to Genting via the redBus mobile application. They have a large fleet of buses and the top routes covered by Grassland are as follows:
• Sungai Petani to Singapore
• Sungai Petani to Johor Bahru
• Kuala Lumpur to Johor
• Kuala Lumpur to Kedah
• Kedah to Singapore
• Kuala Lumpur to Singapore
Types of Buses Offered by Supernice Grassland
There are only SVIP buses operated by Grassland. However, they have two different sets of coaches i.e., 18-seater & 27-seater. All their buses are air-conditioned and are equipped with all the basic amenities. One can find frequent buses from various cities. Supernice Grassland bus service started with just two cities, but now it covers many cities. The SVIP buses are equipped with a lot of safety measures, and the drivers and staff members are well trained. You can check the schedule of Supernice Grassland express buses via redBus.
Popular Cities Covered
Malaysia and Singapore are visited a lot by tourists because of their tourist attractions. Singapore is a sovereign island nation located on the southern side of peninsular Malaysia. Top cities covered by Grassland buses and their tourist attractions are as follows:
• Singapore, the island-city state, is famous for its tourist attractions like Marina Bay Sands, Gardens by the Bay, Merlion Park, SEA Aquarium, Lazarus Island, Buddha Tooth Relic Temple, Tiger Sky Tower, Singapore Zoo, etc.
• Kuala Lumpur, Malaysia's capital city, is also visited by a lot of tourists/pilgrimage seekers from around the globe. It is famous for its attractions like KLCC Park, Kuala Lumpur Bird Park, Menara Kuala Lumpur, Islamic Arts Museum Malaysia, Perdana Botanical Gardens, Taman Burung, National Mosque of Malaysia, etc.
• Sungai Petani, a city in peninsular Malaysia, is also covered by Grassland buses and is famous for tourist attractions like Pantai Merdeka, Sungai Petani Clock Tower, Riverfront City, The Carnival Theme Park, Masjid Sultan Muzaffar Syah, Taman Jubli Perak Playground, etc.
Visit www.redbus.sg to know more about how to have a stress-free and comfortable journey by booking a bus ticket online in Singapore.
redBus Safety+
In 2020, redBus launched Safety+, a new safety measure to help prevent and contain the spread of the Covid-19 virus.
Safety+ helps bus operators showcase that they strictly comply with the government's safety measures. Passengers can look out for this sign to identify bus operators who follow all the guidelines issued by the authorities.
A bus with Safety+ sign has undergone the deep cleaning and disinfection process. It also provides hand sanitizers and conducts temperature checks regularly. It's staff all wear approved masks throughout the journey.
To ensure further protection, redBus requests users to follow social distancing and personal hygiene rules. These rules include the usage of face masks, washing of hands, etc. Passengers are also requested to avoid travelling in case they have any Covid-19 symptoms.

Disclaimer: Bus timings, routes, and fares are subject to change. Please check the redBus app or website for any last-minute changes.