Transtar Travel Bus Ticket Booking
About Transtar Travel
Transtar Travel was founded in the year 1994 to provide a safe and comfortable travel experience to all its passengers. Transtar Travel is among the most popular and trusted bus operators that provide its bus travel services across Singapore and Malaysia. It is known for providing punctual bus travel services. Transtar Travel is also one of the oldest bus service providers in Singapore. It has gained customer loyalty over the past 20+ years through its quality services to customers. It serves some of the most prominent travel routes between Singapore and Malaysia.
Over the past two decades, Transtar Travel has grown its bus travel network to become one of the leading players in the bus services industry in Singapore and Malaysia. They are constantly putting efforts to match the market demand without compromising on their quality of services. To cater to the growing demand for fast luxury bus travels, Transtar Travel introduced a fleet of exclusive luxury coaches back in 2005. They aim to improve the customer experience at any cost and don't compromise on the passengers' safety and comfort.
History of Transtar Travel
Transtar Travel Pte Ltd has been providing bus services from Singapore to various cities in Malaysia since 1994. They were among the initial bus operators who launched luxury bus services. Transtar Travel launched exclusive luxury coaches in 2005. Also, the bus service provides various types of buses to choose from, like Solitaire, Premium, SVIP, and Superstar. They have a huge network in the transportation sector as they have been providing bus services for more than 25 years. They are preferred by the people of Singapore as well as by foreigners due to their affordable & frequent services.
Transtar Travel provides bus services from Singapore to various Malaysian cities like Kuala Lumpur, Genting Highland, etc. They also provide bus services from one city to another in Malaysia. They have four offices/counters in Singapore. Their headquarters in Singapore is situated in Beach Road. They provide various amenities to make your bus journey comfortable like WIFI, Pillow, Personal TV, video entertainment, etc. They have a good fleet size and provide frequent bus services from Singapore to various cities throughout the day like Transtar bus to Genting, etc.
You can visit their official website to know more about Transtar Travel bus services. You can contact their offices via telephone or by fax. The address of offices & Transtar Travel contact information are given below.
Amenities Offered by Transtar Travel Buses
Transtar Travel offers one of the most continents and affordable travel services to its passengers. Passengers can choose from a wide range of buses available for their particular travel route. All these buses offered by Transtar Travel are equipped with all the necessary amenities to make the experience more comfortable and safe for all the passengers. The exact range of amenities provided by Transtar Travel buses differs depending on the passengers' type of bus. Generally, you will find the following amenities in most of the Transtar buses.
Charging Port

Air-Conditioner

Water-Bottle

CCTV

Reading Lights

Motorized Calf Support

Wi-Fi

News Paper

Personal TV
Popular Travel Routes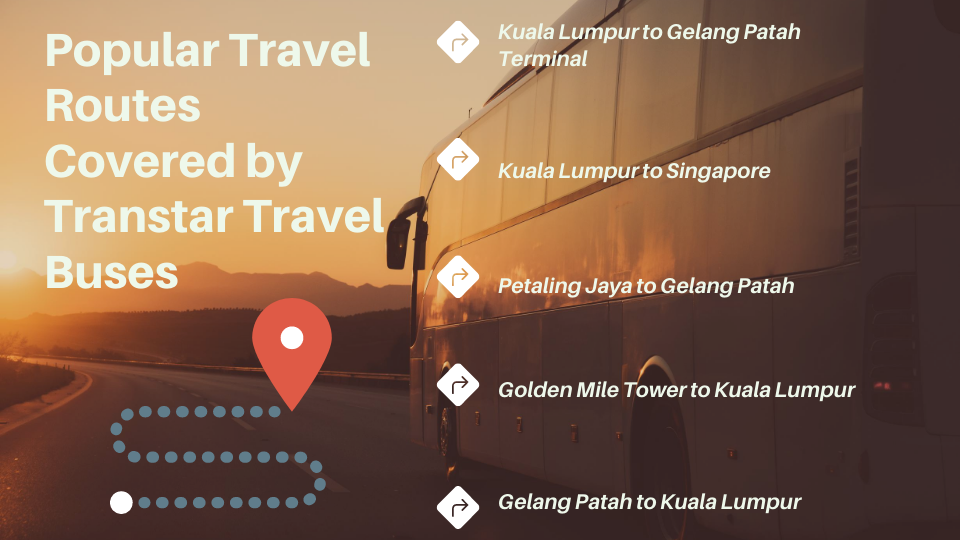 Transtar Travel provides its bus travel services for numerous routes to connect multiple cities and towns across and around Singapore. There are various types of buses available to cater to these travel routes and provide the passengers with a memorable and convenient travel experience. Some of the most popular bus travel routes covered by the Transtar Travel buses include the following.
Kuala Lumpur to Gelang Patah Terminal

Kuala Lumpur to Singapore

Petaling Jaya to Gelang Patah

Golden Mile Tower to Kuala Lumpur

Gelang Patah to Kuala Lumpur
These were some of the mainstream destinations that are covered by Transtar Travel buses; the services are not just limited to these travel routes and expand to numerous other popular travel destinations. Transtar Golden Mile complex is one of the mainstream boarding points in Singapore. The frequency for Transtar bus to Genting is fairly high. You can easily check the availability of a Transtar Travel bus online using the redBus application or website.
Types of Buses Offered by Transtar Travels
Transtar Travel aims to cater to a wide range of passengers with its bus travel services; it has various types of buses in its fleet to accommodate passengers of every budget and travel needs. Transtar Travel is known for innovating the bus travel services spaces through its constant efforts to improve the customer satisfaction level. It was the first to introduce the 26 seater super VIP coach in the Singapore bus travel industry. It also brought in top-notch luxury coaches to accommodate the passengers' growing demand for fast luxury coaches. Some of the most commonly offered buses by Transtar Travel Pte Ltd. include the following.
Solitaire

Premium

SVIP

superstar
Popular Cities
Transtar Travel connects multiple cities and towns in and around Singapore; it is known for providing the best and most affordable bus travel services across the majority of the cities. Bus travel is the desired choice by locals and travelers who visit Singapore. Transtar Travel aims to bridge the connectivity gap by providing quality travel services. Some of the most popular cities covered by Transtar Travel buses include the following.
Kuala Lumpur

Gelang Patah

Singapore

Petaling Jaya

Genting Highlands
You can easily check Transtar Travel buses' availability for your city using the redBus application or website.
How to Book a Transtar Travel bus Ticket on redBus?
redBus has the most user-friendly online portal for booking bus travel services. One can easily book a Transtar Travel bus with the redBus website using their smartphones or computers. redBus aims to provide you with economic and comfortable bus travel experience by connecting you with various trustworthy bus operators. You can follow the steps mentioned below to book a Transtar Travel bus easily with redBus.
Firstly you need to open the redBus application or visit its official website.

Now after opening the redBus online portal, you will find the 'From' and 'To' option available on its homepage, navigate to that section for entering the relevant details.

After this, you will have to mention your travel route related details in the "From" & "To" column, specify your boarding and drop-off points from the drop-down menu.

Now just choose the travel date as per your preference and find the availability of buses for that date by tapping on the 'Search' button provided.

redBus will provide you with numerous bus options to choose from depending on the availability of these buses for your travel route.

redBus also provides you with the option to choose your seat as per your preference and availability on that bus.

After this, you will have to click on the 'proceed to book' button provided and enter your personal details such as name, email and contact number in the space provided

The last step is to make the payment to confirm your bus travel booking with redBus .

Once you have completed the payment process, you will receive an e-ticket on your mobile and email address with a confirmation mail
Visit redBus.sg to know more about how to have a hassle-free and comfortable journey by booking a bus ticket online in Malaysia.
Disclaimer: Bus timings, routes, and fares are subject to change. Please check locally for any last-minute changes.