Transtar Travel Bus Ticket Booking
About Transtar Travel

Established in the '90s in Singapore, Transtar Travel is now a common name in Southeast Asia. Not only in Singapore, but Transtar Travel is a leading express coach that runs its services to Malaysia as well. Since it has been in the transportation industry for a long, it has bought many reforms. For example, it was the first operator to launch SUPER VIP coaches with a seating capacity of 26 passengers. Transtar was among the first few operators that launched online bus reservation services for passengers. It is also credited for bringing several passenger-safety reforms in the transportation industry. Transtar buses were the first to be equipped with seat belts in Singapore and Malaysia.
Transtar started its journey by offering passenger bus services in Singapore. Over the years, it started offering local bus services in Malaysia too. After a few years, Transtar also started offering coach charter and minibus transfer services. As of now, Transtar also offers Limousine transfer services to passengers. Transtar buses completely changed the game after starting luxury bus services in 2005. It continuously strives to offer passengers safe and first-class bus services in Malaysia and Singapore.
Transtar Buses offers express and luxury bus services to Singapore, Petaling Jaya, Gelang Patah, Genting Highlands, and many other locations. With a large fleet, this bus operator ensures frequent buses to different locations in both countries. All buses offered by Transtar are equipped with first-class amenities to elevate the commuter experience. Transtar bus tickets can be easily booked online with redBus. It also has offices in Singapore and Malaysia to manage its multinational bus transport network. Be it a local trip or a cross-border trip, and you will have the perfect travel experience with Transtar buses. Let us know more about bus transit services operated by Transtar.
You can visit their official website to know more about Transtar Travel bus services. You can contact their offices via telephone or by fax. The address of offices & Transtar Travel contact information are given below.


Transtar Travel Bus Services
Several features make Transtar stand out from other operators in Singapore and Malaysia. Bus service information related to Transtar is as follows:
Amenities
All Transtar buses have first-class amenities to improve the passenger experience. One can check the amenities available on a bus while Transtar Travel online booking on redBus. Standard amenities on a Transtar bus during your trip are as follows:
CCTV
WIFI
Reading light
Newspaper
TV
Air conditioner
Water bottle
Luggage compartment
Popular Routes Served by Transtar Travel

The top routes served by Transtar Travel are as follows:
Local routes
• Petaling Jaya to Gelang Patah
• Gelang Patah to Kuala Lumpur
• Kuala Lumpur to Gelang Patah
Cross-border routes

Genting Highlands to Singapore
Average price: SGD 32 - 40
Pick-up points: First World Hotel and Resort Hotel
Operational time: 12:00 PM to 02:15 PM
Average price: SGD 30
Pick-up points: TBS, Berjaya Times Square, and Imbi
Operational time: 12:00 PM to 6 PM
Average price: SGD 30
Pick-up points: Boon Lay and Golden Mile Complex
Operational time: 07:00 AM to 10:30 PM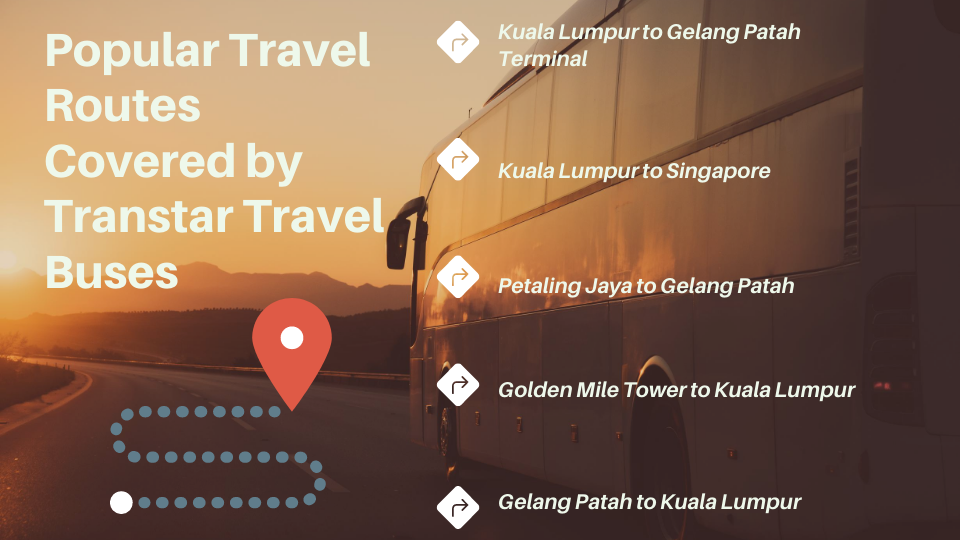 Popular Bus Terminals
Transtar uses many bus terminals in Malaysia and Singapore to offer bus transit services. Some popular bus terminals/points served by Transtar Travel are as follows:
Berjaya Times Square
Terminal Bersepadu Selatan
Golden Mile Complex
First World Hotel
Resort Hotel (Genting Highlands)
Lavender MRT
Tampines
Jurong East
Sengkang

You can easily check Transtar Travel buses' availability for your city using the redBus application or website.

Visit redBus.sg to know more about how to have a hassle-free and comfortable journey by booking a bus ticket online in Malaysia.
Disclaimer: Bus timings, routes, and fares are subject to change. Please check locally for any last-minute changes.