Eltabina Jaya Express Bus Ticket Booking
When it comes to cross-border bus travel in Malaysia and Singapore, Eltabina Jaya Express is a name that you can trust. The company serves various routes between Malaysia and Singapore. They started their bus services in 1997 in Singapore. After being in service for over 25 years they have gained the trust and interest of the passengers. By providing comfortable buses at economical rates and top-class amenities, Eltabina bus services are now one of the highly rated buses.
Depending on the route Eltabina bus services provide up to 18 buses per day, especially to/from Kuala Lumpur. Booking Eltabina Jaya Express bus tickets is now easier than ever. Most of their routes have 1-3 buses per day, usually starting at 9 am and the last bus at 10.30 pm. Some routes have their only trip at night. Eltabina Jaya Express bus ticket is available online at best prices.If you are planning to travel the route, Eltabina Jaya Express has got you covered.


Why Choose Eltabina Jaya Express Bus Services?
Comfortable bus services in Malaysia. Eltabina Express bus services are available in various types such as 27-Seater buses - Super VIP, Standard 40-seater SVIP buses, and 37-seater coaches - Double-decker coaches.
Safe cross-border bus travel in Singapore and Malaysia
Variable bus types and seating arrangements to choose from - standard buses have 2+2 seating while the other types have a 2+1 seating arrangement.
Facility of online bus ticket booking with platforms like redBus that help do bus booking online at affordable prices
Eltabina Jaya Express covers multiple routes and terminals in Malaysia and Singapore, making it easy for you to travel to your desired destination.
Amenities
Eltabina Jaya Express buses have the most comfortable seats and seating arrangement that provides maximum space inside. The common amenities on these buses include,
GPS tracking
Seat belts
USB ports
Air conditioning
Reading lights
Luggage compartment inside and under the bus
Popular routes Covered by Eltabina Jaya Pte Ltd
All popular routes of the Eltabina bus are cross-border trips to Singapore from various locations in Malaysia. Eltabina Jaya Express is one of the good choices if you are looking for a The routes are -
Kuala Lumpur to The Plaza Beach Road
Kuala Lumpur to Woodland
Singapore to Malacca
Popular Bus Terminals
Eltabina Express buses operates in various cities such as Singapore, Kuala Lumpur, Penang, Ipoh, Johor Bahru etc. The terminals that they connect to are listed below -
TBS (Terminal Bersepadu Selatan), Kuala Lumpur
Berjaya Times Square, Kuala Lumpur
Ipoh Amanjaya, Ipoh
Medan Gopeng, Ipoh
Penang Sentral, Penang
Woodland, Singapore
The Plaza Beach Road, Singapore
Terminal 1 Seremban, Seremban
Steps to Book Eltabina Jaya Express


To travel with Eltabina Jaya Express Pte Ltd, do your bus ticket online booking with redBus in easy steps as shown -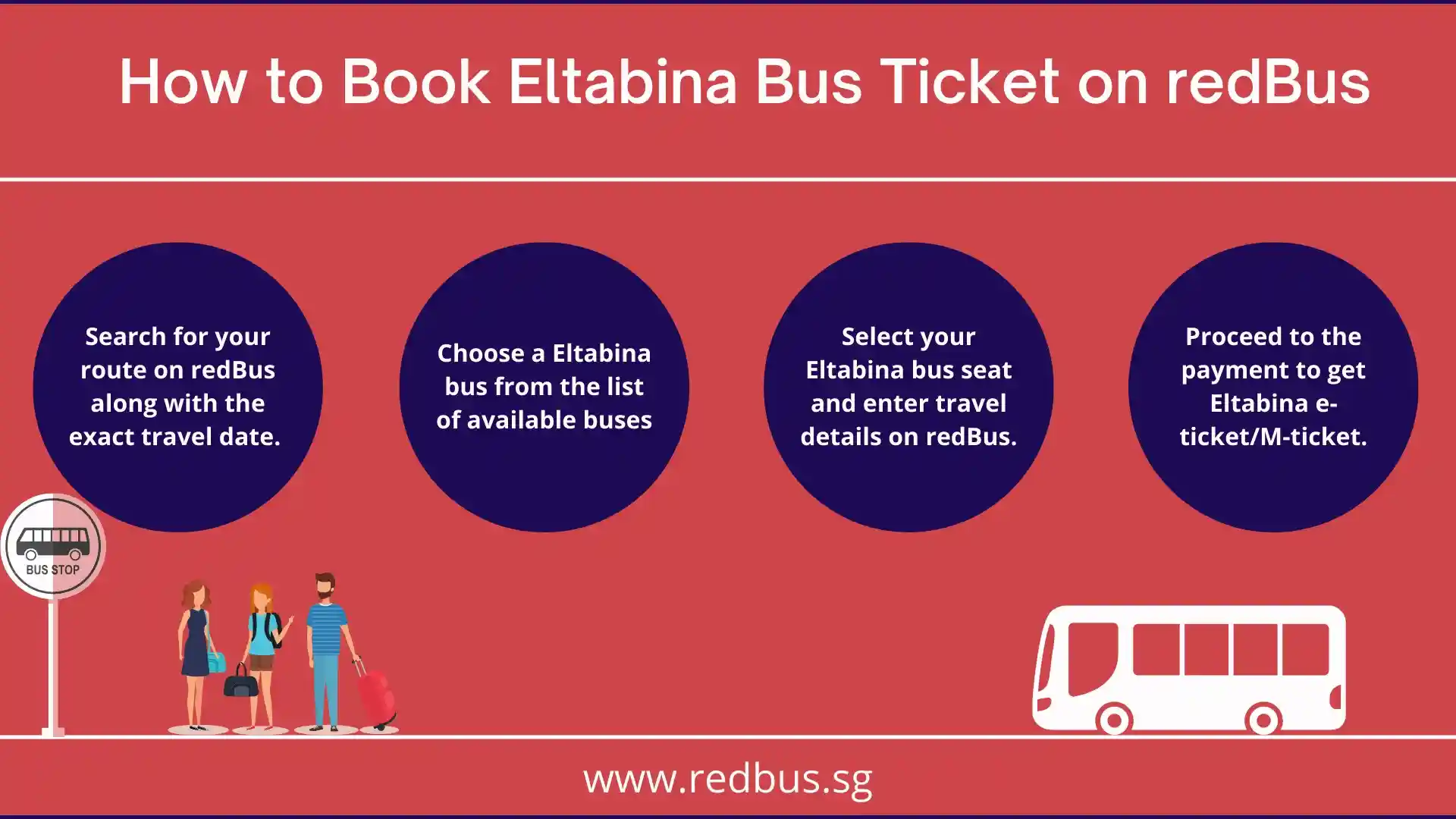 The confirmed M-ticket will be sent to your mobile and a PDF format of the ticket will be sent to the email ID provided. Now redBus customers can securely book Eltabina Jaya Express Pte Ltd tickets with debit card, credit card and net banking. All users are eligible to ongoing time to time deals and offers and make sure they have a discounted journey with us. Check redBus promos to save more on Singapore bus tickets online.