707 - Inc Bus Ticket Booking
About 707 Inc
707 Inc is a bus company in Singapore that started its operations over 60 years ago and has now become one of the most popular bus services in and around Singapore. The group believes in creating top-quality projects that have trendsetting concepts. The group's vision and mission are to reinforce the values of commitment, reliability, and creating long-term relationships with the passengers and establish a legacy as a brand that everybody trusts! Whether you are going around Singapore for work or you are taking a vacation with the entire family, 707 Inc will always be there to provide you and your family with the best possible services.


There are many pick-up and drop-off points in various areas of the cities, making sure you are closer to your destination. The company also allows you to book your tickets online to make your travel plans a lot easier! By simply choosing from the bus time table that perfectly fits your travel plan, you can get your ticket in no time from the comfort of your home!
How to Book a 707 inc bus on redBus
With redBus, booking your 707 Inc bus tickets online is now very easy. To make online bus bookings for 707 Inc coaches on redBus, all you have to do is follow these simple steps:
Visit the redBus website or open the application. You could either sign in or book tickets on redBus without signing in.

In the "From" and "To" tab, enter the Source and Destination locations of your choice based on your travel plans.

According to your preferences, select the "Date of Journey" and enter the search button. This will show you the availability of buses on that specific date.

From the list of buses, choose the bus you like according to the amenities you want.

Now, select your favorite seat, along with the boarding and dropping points, and enter "Proceed to Book".

Enter your details in the "Contact Information" and "Passenger Information".

You will also be given an option to insure your journey so that you will be covered in case of loss of luggage or an accident and then select "Proceed to Pay".

If you have an offer code, type that in, select the mode of your payment, and complete the payment process.




History of 707-Inc Bus

Ever since they started their bus operating services in 1953, the 707-Inc bus has grown popular in the Southern Malaysian Peninsular region, Indonesia, and Singapore. The 707-Inc Group also ventured into the tour chartering services in 2012 under the registered name of Great Excursion Travel Pte Ltd.

707 buses to Singapore and Malaysia are the main focus for this operator. These budget-friendly buses are of two types- single and double decks with a number of seats of 27, 30, and 45. The double-deck buses have a larger number of seats. It serves as a major connecting point between many popular cities and spots in Singapore. The popular tour package destinations are mainly in Malaysia. 707 Inc bus to Genting Highland, Kuala Lumpur, Tioman Island, Sibu Island, Cameron Highlands, Johor Bahru, Malacca, Kulai, and Yong Peng.

The 707-Inc has 3 branches in Singapore and several offices, including the headquarters in Malaysia.


Amenities Offered by 707 Inc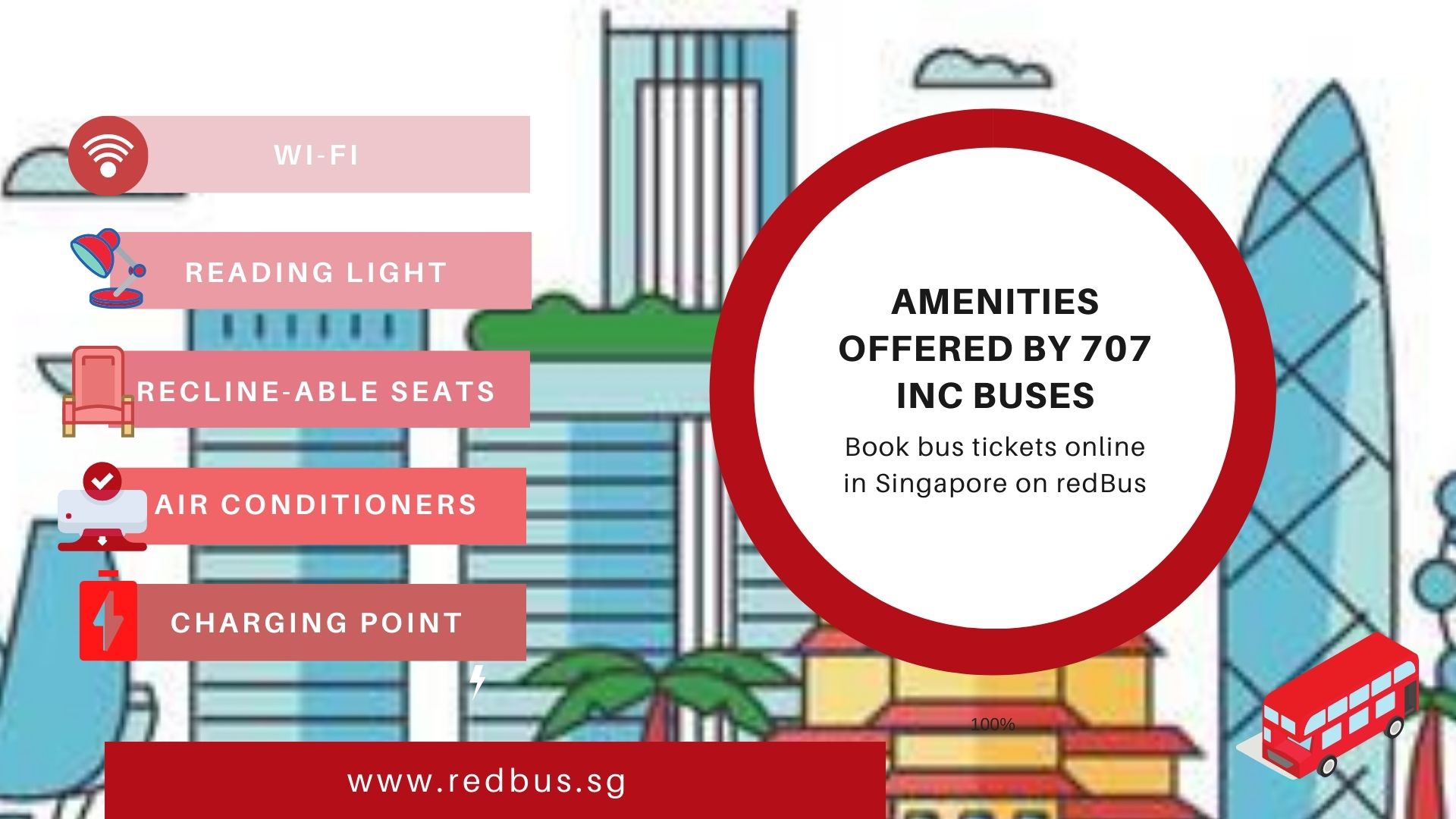 To make every individual's journey a very comfortable one, 707 Inc offers several amenities. The company values customer satisfaction and makes sure the customer's overall experience in a 707 Inc bus is amazing and unforgettable. Every amenity is added to improve the customer's journey and is designed to make the travel a very comfortable experience. 707 Inc bus services also make sure you reach your destination safe and secure. A few amenities provided by the buses are:
Air conditioning.

Reclining Seats.

TV.

Wi-Fi.
However, depending on the type of bus you are booking, the amenities and services may vary. When booking your tickets, you can check out the specific amenities on the type of bus you wish to book.

Popular Routes
707Inc provides services to various routes across the country and services to popular tourist destinations in the city. Convenient services are provided in the following routes:
Melaka Sentral to Singapore.

First World Hotel to Queen Street.

Swiss-Garden Hotel to Singapore.

First World Hotel to Hatten Hotel Malacca.

Genting Highlands to Singapore.
707 Inc offers services to a few other less popular routes, and you can check the availability of these buses along with the timings online on the redBus Portal!

Types of Buses Offered by 707 Inc
707 Inc coaches come in single decks of 30 and 27 seaters and double decks of around 45 seaters with many amenities. The company makes sure that it provides services to customers of every budget. The drivers of these coaches are professionally trained to ensure the safety of the passenger. All the company staff members make sure you have an enjoyable and pleasant journey no matter how far your destination is. Some of the types of buses that run on popular routes are:
Standard.

Exclusive Single Deck.

NEW K-CLASS-DBL.

Super VIP.

Super VIP Merchant.

Snoozer 21 seaters.
The bus availability may change depending on the route you wish to go and how long the travel time is. However, you will be given options to select the bus for most routes, depending on the amenities each option provides. Therefore, if you want a 707 bus to Genting or a 707 bus to Singapore, select the type of coach on the list of buses available.

Popular Cities
707 Inc connects many towns and cities in and around Singapore, making these buses the most convenient way to travel to various destinations. Some of the most popular cities that are covered by 707 Inc are:
Genting Highlands.

Johor Bahru.

Singapore.

Malacca.

Yong Peng.

Kulai.
707 Inc also offers services to other towns and less popular places, and if you wish to travel to these areas, you can check the timings and book your bus tickets online.

When these steps are over, you will receive an e-ticket on the email ID and an m-ticket on your mobile you have given in your "Contact Information".
Visit www.redbus.sg to know more about how to have a stress-free and comfortable journey by booking a bus ticket online in Singapore.
Disclaimer: Bus timings, routes, and fares are subject to change. Please check the redBus app or website for any last-minute changes.