YOYO Express Bus Ticket Booking
Since its establishment in 2004, the Yoyo bus has committed itself to provide excellent bus service to every passenger and client. With years of operational expertise and experienced operating staff, Yoyo express has gained a lot of popularity in the Malaysian tourism industry.

For over a decade Yoyo bus has been providing seamless and top quality bus services in the airport bus services and inter and intrastate travel. Today, the Yoyo bus is a trusted name in intercity buses with most frequent tours between cities like Ipoh, Yong Peng, and Johor Bahru. Yoyo bus's commitment is to provide affordable bus travel to its clients and to continue its operations with customer satisfaction.

YOYO Bus Services

Yoyo bus service providers are relatively new in the market. They started their bus services in the year 2004. A Yoyo bus ticket can be booked both online as well as offline. A Yoyo bus can be taken if you want to reach Klia, Ipoh, Johor Bahru, etc. Yoyo buses are usually taken by all the passengers as KLIA is the most popular destination for travelers. A Yoyo bus schedule can be easily checked on the redBus app. After viewing the schedule, you can easily plan your travel accordingly.

A Yoyo bus is a preferred choice for a lot of passengers as it is quite punctual. It also provides several amenities to the passengers. These buses are well equipped with reading lights, charging points, wi-fi, etc. Also, the fleet of Yoyo bus includes several types of buses like executive, coaster, air-conditioned, sleeper, etc. These buses are also known for connecting Singapore and Malaysia. People looking forward to visiting both countries choose to go with Yoyo buses as they are both budget-friendly and comfortable. You also have a huge space to keep your luggage. So, in case you are traveling by a Yoyo bus, do not worry if you are carrying more bags.

Yoyo bus operators are known for providing high-quality bus service with reasonable pricing. It's in their vision to provide high-quality bus service to passengers with cost-efficient prices and to bring the Malaysian tourism industry to the next level. Here are the types of bus services offered by Yoyo bus -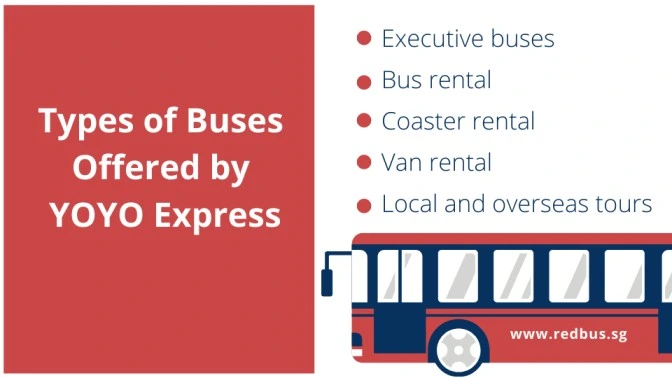 Amenities Offered by Yoyo Bus
Yoyo bus has been operational for over a decade, and they believe in providing high-quality travel experience to their passengers. Therefore, all their executive class buses are fully air-conditioned; they have reclining chairs for extra space and comfort and provided with charging sockets on the side to charge your electric gadgets. Experienced drivers drive all the buses, and all the staff is trained to provide you with worry-free travel experience.
Popular Routes Covered by Yoyo bus
Yoyo bus has created a great network of inter Malaysian tour and travel; they also offer some of the most frequent buses in the airport bus services.
Yoyo bus operates on different routes in Malaysia. However, the most popular routes in the Yoyo bus schedule are-
Ipoh to KLIA 2

KLIA (Kuala Lumpur International Airport) to Ipoh

Ipoh to Johor Bahru
Disclaimer: Bus timings, routes, and fares are subject to change. Please check the redBus app or website for any last-minute changes.