Book Delima Express Bus Tickets Online
About Delima Express
If you are travelling across different cities in Malaysia or from Malaysia to Singapore, it is rare to miss out on the name of one of the most popular bus operators in the region. Delima Express is one of the most loved and customer-friendly bus operators who ensure that travelling in Malaysia or Singapore is hassle-free and comfortable for all travellers.
At present, Delima Express operates in Malacca, Kuala Lumpur, Johor Bahru, Singapore etc. They provide various bus amenities on-board like recline-able seats, reading light, charging point, etc. You can also look at the vehicle images of Delima Express via redBus. The spacious buses of Delima Express provide ample leg space to passengers along with a luggage storage service.They provide safe and smooth trips from Malacca to Kuala Lumpur, Malacca to Johor Bahru and Malacca to Singapore. Delima Express buses are modern, equipped with comfortable, spacious seats and have air conditioning and TVs to ensure all travellers are entertained throughout the journey. Travellers can also carry their food and snacks to the bus.
If you are looking for buses, especially from Malacca, you can easily find a Delima Express bus ticket online and book your ticket conveniently on redBus. Since the service believes in punctuality, the bus always leaves on time so that all travellers reach their destination on time. With over 20 years of experience in the industry, Delima Express has built a legacy that is trusted by tourists as well as locals.
Delima Express Bus Services
Being one of the most popular and trusted bus service providers in Malaysia and Singapore, Delima Express ensures smooth and comfortable trips for all. The bus service provides buses to and from Malacca. With a systematic schedule and easy booking service by redBus, you can book online bus tickets at your fingertips. Delima Express offers interstate trips to Kuala Lumpur and Johor Bahru, as well as international bus travel options to Singapore. The buses can often be spotted at the main bus stand at Malacca, the Melaka Sentral, since it is their major boarding and drop-off point.
Amenities Offered by Delima Express Buses
To ensure that all passengers travelling on Delia Express have a comfortable and enjoyable journey, the bus service offers several amenities. Firstly, the seats are clean, well-maintained and spacious. There are also charging ports present below the seats, so you can easily use them while you enjoy the ride. Secondly, all buses provided by Delima Express have air conditioning and come with TVs. Thirdly, all passengers have the provision of bringing along food and snacks of their choice. Apart from these, the bus leaves on time and ensures that the bus reaches its destination on time.
Popular Routes covered by Delima Express
Delima Express operates majorly from the Malacca bus station. It offers interstate and international rides, with Melaka Sentral being the boarding or drop-off point. Here is a list of rides offered by the Delima Sentral Bus Services:
Interstate Routes:
Malacca to Kuala Lumpur (Journey time: about 2 hours)
Malacca to Johor Bahru (Journey time: about 3 hours)
Kuala Lumpur to Malacca (Journey time: about 2 hours)
Johor Bahru to Malacca (Journey time: about 3 hours)
International Routes
Malacca to City Plaza, Singapore
Singapore to Malacca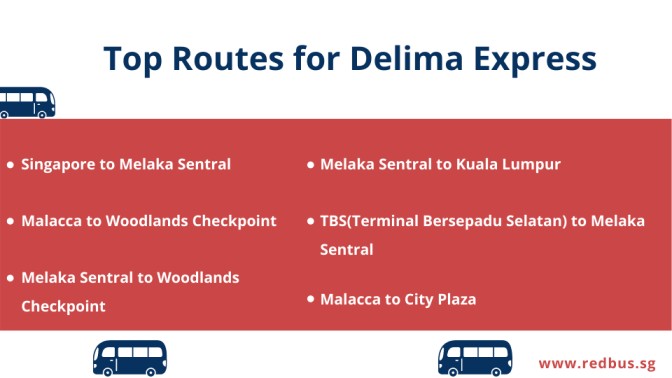 Popular Bus Terminals
Here is a short list of popular bus terminals where you can easily spot a Delima Express bus:
Melaka Sentral
Terminal Bersepadu Selatan
Terminal Larkin Sentral
City Plaza
Popular Cities Served by Delima Express
Delima Express Bus Services operate in some of the most important cities in Malaysia and also provides you with bus options for international travel to Singapore. Here is a list of cities where you can take a direct route using a Deima Express bus ticket online and discover cities in Malaysia as well as the route from Malaysia to Singapore.
Malacca (the main destination for Delima Express buses)
Kuala Lumpur
Johor Bahru
Singapore City
Office Address
You can reach out to Delima Express Office at the following addresses:
Plot 3, 4 & 5, Kawasan Perindustrian IKS,
Taman Malim Jaya,
75250 Melaka.
Phone Number: 06-288 1321
#01-72A,
City Plaza,
810 Geylang Road,
Singapore – 409286
Tel: +65 6745 1963