Key Points to Remember When Traveling on a Delima Express Bus
Delima Express is an experienced bus operator in Malaysia with more than 20 years of experience. They provide interstate bus services as well as non-stop express buses to Singapore as well. With their punctuality, reliable staff, and comfortable amenities they are one of the most popular bus operators in the cities where they serve.

Their major services areas include Kuala Lumpur, Johor Bahru, Malacca, Singapore, etc with daily services to and fro.
The Delima Express offers the standard Executive buses with a 2+1 seating arrangement. The buses are all single-decker, with 40 seats in total.
All the buses have got the basic amenities in the form of reclining seats, AC coaches, comfortable legroom, and enough luggage storage space. The availability of the amenities does not affect the bus fare of Delima Express buses.
Delima Express in collaboration with redBus offers affordable bus fare for all. With the addition of redBus discounts, you can get additional savings in the form of the new user coupon code of 'SGNEW' where you are likely to get a 10% discount on the bus fare up to S$3 and an additional S$3 as well.
To make your bus ticket bookings easier and more reliable, the redBus ratings will be clearly visible against the bus operator when you search for the buses. Delima Express has a rating of 4.08 from the passengers.
Due to the pandemic situation, Delima Express has enforced strict guidelines by the government and that of redBus. The staff must wear face masks while travelling, hand sanitisers are provided, and the interior of the buses are cleaned and sanitized well after each trip.
Delima Express Major Routes and Details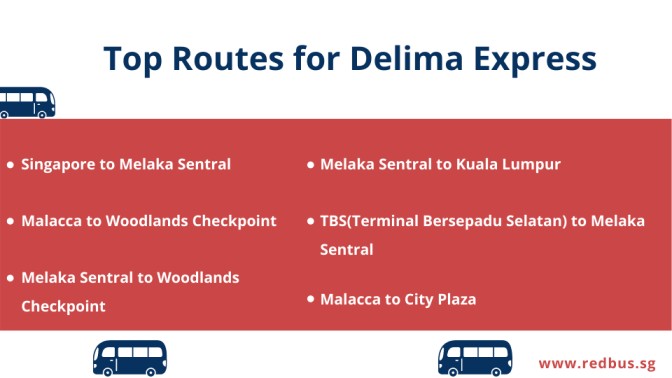 Route: Melaka Sentral to Kuala Lumpur
Average price: SGD 3.93
Pick-up points: Melaka Sentral
Operational time: 6 am - 8 pm

Route: Singapore to Melaka Sentral
Average price: SGD 20.66
Pick-up points: City Plaza
Operational time: 9 am - 7 pm

Route: Malacca to City Plaza
Average price: SGD 8.52
Pick-up points: Melaka Sentral
Operational time: 9 am - 7 pm

Route: Malacca to Woodlands Checkpoint
Average price: SGD 8.52
Pick-up points: Melaka Sentral
Operational time: 9 am - 7 pm