Causeway Link Bus Ticket Booking
About Causeway Link
Causeway Link is among the most trusted bus operators in Singapore and Malaysia. It started its operation 17 years ago, back in 2003 with just eight buses and now has grown exponentially over the past two decades. It broke the decades-old monopoly for the cross border travel services and primarily catered to providing services in Singapore to Malaysia route that was earlier reserved for some big bus operators only.
In the present time, Causeway Link bus services cater to numerous travel destinations, including regional, local and cross-border routes in both Malaysia and Singapore. One of the best things about the Causeway Link express services is that it is very punctual and reliable. Causeway Link buses are equipped with all necessary amenities to ensure a safe, comfortable, and hygienic travel experience. It aims to provide one of the most affordable bus travel services to helps all types of passengers.

How to Book a Causeway Link bus Ticket on redBus?
RedBus has one of the easiest and most friendly user interfaces to book an online bus ticket. You can easily make your Causeway Link bus ticket booking using redBus. redBus helps provide one of the most affordable bus travel experiences by connecting you with reliable and trusted bus operators. Please follow the below-mentioned steps to book your Causeway Link bus tickets online with redBus easily!
The first step in the process is to open the redBus application or visit the website. You don't necessarily need to sign in for booking your tickets with redBus

After visiting the redBus website or mobile application navigate to the 'From' and 'To' option available on the homepage

Now you will need to enter your boarding and drop-off location in the "From" & "To" section as per your travel needs

You will also need to choose the date of travel as per your preference and check for the availability of buses on that particular date by clicking on the 'Search' button.

Choose from the range of bus options available for your travel route based on the amenities and timings of the buses

After this, you will need to choose a preferred seat form the seat layout provided to you on the portal

The next step requires you to click on the 'proceed to book' option and feed your personal details along with your contact information

You can also choose to apply coupon code (if available) before making the payment to redBus. You will need to make a payment to confirm your seat with redBus

Now your booking process is complete, and you will receive an e-ticket with a confirmation email



History of Causeway Link

Causeway Link is a prominent bus operator in Singapore & also boasts a global presence. Causeway Link is owned by HGC (Handal Group of Companies), which has six sub-companies. HGC started "Causeway Link: The Smiling Bus" in 2003 with a fleet of 8 buses. It has now grown up a lot and has a staggering fleet size of over 550 buses. They have counters across many locations of Malaysia and Singapore and are preferred by local commuters and tourists. They provide bus services from Singapore to many cities in Malaysia like Kuala Lumpur, Mersing, Batu Pahat, etc.

Causeway Link will provide you with frequent cross-border bus services from Singapore to Malaysia till midnight. They have well-trained drivers and staff members who will make your journey safe. They have spacious buses with comfortable seats to provide you with a convenient travel experience. They also provide various bus amenities like air conditioners, central TV, USB port/charging point, etc. Their buses will pass through the first & second link while crossing the Singapore-Malaysia border so that passengers can access the immigration checkpoints. Daily commuters also prefer causeway Link buses as they provide bus services at affordable rates.

The headquarters of Causeway Link Express is located in Johor Bahru, Malaysia & Singapore. You can also reach out at feedback@support.causewaylink.com.my in case of any query/confusion. You can also visit the official website to know more about Causeway Link bus timing.
Amenities Offered by Causeway Link buses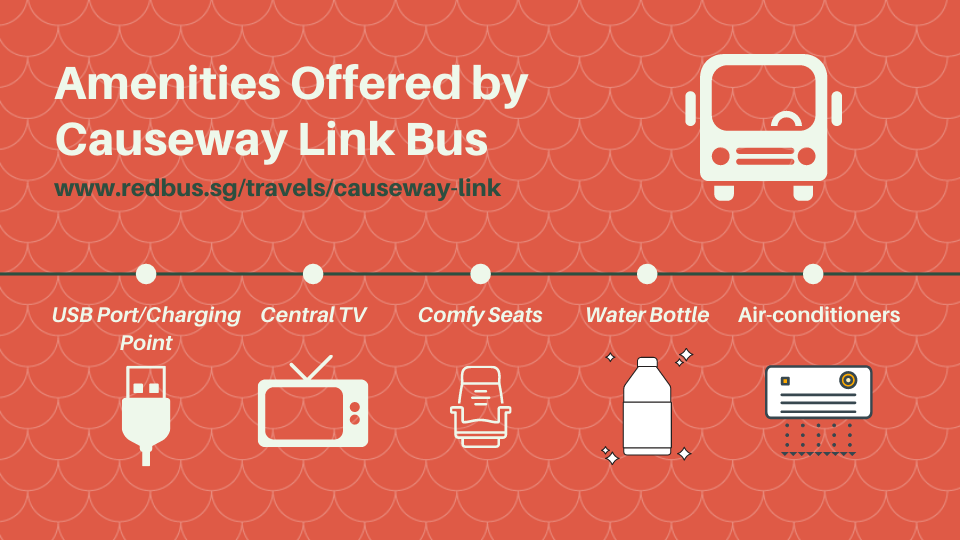 Causeway Link understands how important safety and comfort are for the passengers; it prioritizes the passengers' comfort and safety over everything else. The Causeway Link buses are equipped with all the necessary amenities required to make the travel experience convenient. It is known to offer one of the most premium luxury coaches in Singapore. All Causeway Link buses are hygienic and equipped with a decent range of amenities. The exact set of amenities might offer depending on which type of bus you have booked. Generally, the amenities offered by Causeway Link buses include the following.
USB Port/Charging Point

Comfy Seats

Air-conditioners

Water Bottle

CCTV

Central TV

Reading Light
Popular Travel Routes
Causeway Link buses initially started with serving the Singapore to Malaysia route but gradually expanded to cover numerous regional, local, and cross border travel routes. There are various types of Causeway Link buses available for the passengers that help to cover numerous travel routes across Singapore and Malaysia. Causeway Link buses are known for providing punctual bus travel services across all the travel routes served by them. Some of the most popular travel routes covered by Causeway Link express include the following.
Swiss Garden hotel KL to Johor Bahru

Legoland to Swiss Garden hotel KL

Kuala Lumpur to Legoland

Desaru Coast to JB Sentral Terminal

Batu Pahat to Johor Bahru

Johor Bahru to Malacca

Johor Bahru to Shah Alam
These were some of the popular routes covered by Causeway Link buses, but the service expands far beyond these travel routes. You can easily check the Causeway Link bus timing on redBus and make your online ticket booking.
Types of Buses Offered by Causeway Link
Causeway Link started its operation with just eight buses, but today, the bus operator owns a massive fleet of buses that caters to all types of passengers' travel needs. Whether you are looking for a luxury travel experience or just a normal commute without spending a fortune, Causeway Link has got it covered. All the Causeway Link buses are equipped with necessary modern amenities to make your travel experience extra comfortable and safe. Some of the commonly offered Causeway Link buses include the following.
Luxury Super VIP bus

VIP Air-conditioned bus (2*2)

Economic Air-conditioned bus

Standard bus (2*2)

Chartered bus
Popular Cities
Causeway Link buses connect multiple cities and towns and cover a majority of bus travel routes in and around Singapore. It aims to provide a seamless commute experience to passengers traveling across Singapore with its bus travel services. The bus transport services are a preferred choice among travelers and tourists alike to visit popular destinations around Singapore and Malaysia. Some of the most popular cities covered by Causeway Link buses include the following.
Singapore

Jurong

Mersing

Legoland

Kuala Lumpur

Johor Bahru

Batu Pahat
Visit www.redbus.sg to know more about how to have a stress-free and comfortable journey by booking a bus ticket online in Singapore.
Disclaimer: Bus timings, routes, and fares are subject to change. Please check the redBus app or website for any last-minute changes.