City Express Bus Ticket Booking
City Express has an operational history dating back to 1989. Since the company operates in a service-centric manner, most of these buses are priced affordably.
The company operates in Singapore and almost every city on the West Coast of Peninsular Malaysia with a high frequency of service trips for major cities like Kuala Lumpur, Penang, Johor Bahru, and Melaka.
History of City Express
City Express is one of the oldest bus operators in Singapore as it was incorporated in 1989. It has more than 15 counters/offices distributed across Malaysia & Singapore. There are around 300 dedicated staff members who provide a hospitable environment to the passengers. City Express offers various types of buses in Singapore & Malaysia like SVIP, Standard Economy, Executive Luxury, etc. They were recognized by the name 'City Holiday Express Tours and Transport' in their early days. With more than 30 years of experience, City Express is one of the reputed bus operators in Singapore & Malaysia.
They provide frequent bus services in Singapore and also to/from Hatyai (Thailand). They also cover various cities in Malaysia like Penang, Klang, Jitra, Johor Bahru, Kangar, Alor Setar, etc. They offer all the necessary bus amenities on-board like air-conditioner, WIFI, adjustable seats, reading light, etc. Their coaches are noise-proof to provide you a relaxing bus journey. Their buses are spacious, and you will get ample leg space along with a luggage storage facility. You can find City Express buses' schedule on redBus of various routes like City Express Larkin bus, etc.
You can visit to know more about the offerings of City Express. The City Express headquarter is in Muar, Malaysia, but they also have counters/offices in Singapore.
City Express Bus Service
Some of the major cities connected by City Express include Johor Bahru, Malacca, Kangar, Shah Alam, and Klang. The most serviced route among these is the Johor Bahru route. The destinations include Malacca, Kangar, and Klang. The first bus on this route departs at 7:30 am in the morning and the final bus for the day on this route departs at 12:15 pm.
A few other routes serviced by City Express include Shah Alam to Johor Bahru and Malacca to Kangar. Only one bus operates across these routes. The bus from Shah Alam departs at 9:00 am and reaches its destination at 11:59 pm.
What to expect on a City Express Bus?
City Express offers customers some of the best luxury coaches in Singapore. Every bus operated by the company is well-maintained and comes with basic amenities including air-conditioning, Wi-Fi, noise-free cabins, and comfortable seats. Additionally, the company is also known for employing friendly and support staff, for serving and helping out customers during their journey. The bus fares for the journey varies from S$ 10 to S$ 20 depending on the route and the distance covered.
City Express Bus Types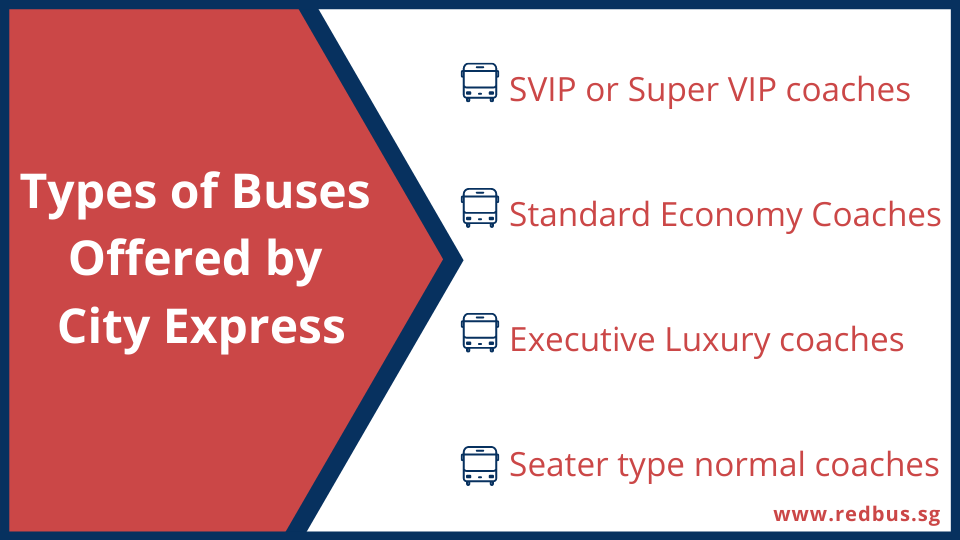 The various types of bus used by City Express across different routes include -
SVIP or Super VIP coaches

Standard Economy Coaches

Executive Luxury coaches

Seater type normal coaches
With such a wide fleet of vehicles, City Express is able to serve a larger audience and provide them with the option of choosing how they wish to travel.
Online Bus Ticket Booking with redBus, Singapore
To book City Express buses, customers can use the redBus Singapore website or app to find the best deals that are available. Several redBus discount offers are available for travelers who wish to use the services of the company. Additionally, redBus online booking also allows customers to check out prior customer ratings and reviews for bus operators. This can help customers asses the quality of services offered by the company. Various payment modes are accepted on the www.redbus.sg website and app like debit cards, credit cards, and net banking.
Visit www.redbus.sg to know more about how to have a stress-free and comfortable journey by booking a bus ticket online in Singapore.
Disclaimer: Bus timings, routes, and fares are subject to change. Please check the redBus app or website for any last-minute changes.