A Bus Tour with Eltabina Jaya
About Eltabina
Running for 28 years now, Eltabina services passengers from Kuala Lumpur to major cities in Peninsular Malaysia and Singapore. Known as one of the top choices of budget travelers, the Eltabina bus service has both chartered and express coaches. The head office is located in Kuala Lumpur, and it is often referred to as Eltabina, the plaza. This much-reputed bus service runs between Singapore and all major towns of Malaysia, including Seremban, Yong Peng, Kuala Lumpur, and Ipoh.
Eltabina is among the top ten buses in Singapore and provides VIP, SVIP, and standard coaches. Each offer somewhere around 25-seater to 35-seater coaches. The buses have received rave reviews over the years as they are equipped with all the necessary amenities required to make the travel experience comfortable, safe, but also luxurious. More than anything, Eltabina promises punctuality and ease-of-travel. It is incredibly easy to book tickets online using the Redbus mobile application or website.


History of Eltabina Jaya

People of Singapore consider Eltabina Jaya as one of the best bus service providers in Singapore. They are known for providing luxurious travel services to passengers traveling to different cities. You can book an Eltabina bus using the redBus app in case you want to travel to Ipoh, Kuala Lumpur, Yong Peng, or any other nearby city. Eltabina Jaya started its bus services in the year 1992 and has continued to provide exceptional bus services to passengers for the last 28 years. Eltabina is the best choice for people who look forward to economical ways of traveling. Eltabina online booking can be quickly made using the redBus mobile application.

Eltabina has different types of buses as a part of its fleet. There are various VIP, SVIP, Standard coaches, etc., that can be booked using the redBus app. Eltabina buses have comfortable seating and are also known for their world-class amenities. These buses come with wi-fi, recliner seats, air-conditioners, etc. Also, these buses provide workspaces for the passengers to be productive while traveling on the bus. These buses also have Damrong slip seats, which make them even more unique. The price of the tickets would change with the bus you choose to travel with.

Customer satisfaction is a topmost priority for Eltabina. You can reach out to them in case you want more details on the kind of services they provide. They will help you out with all your questions and queries.
Amenities Offered by Eltabina
As mentioned earlier, Eltabina is considered to be one of the topmost traveled buses in Singapore, and thus, needless to say, they have top class amenities as well. Their main goal is to provide complete customer satisfaction without burning a hole in their pockets. While punctuality and comfort are exclusively what customers lookout for, a bus should also have all the required amenities. Every Eltabina bus is built on high technology imported Scania chassis from Sweden. They also handpick the captains and give them regular training and monitoring. The best safety measure they include is a GPS tracker that monitors each bus route in real-time.
Apart from this, some of the other amenities are:
Damrong slip seats imported from Thailand

Sufficient workspace.

USB port.

Airline quality recliner seats.

Air conditioner.

Spacious luggage compartment.

Wi-Fi.

Safety of luggage.
Although the above-mentioned list covers some basic amenities, it should be noted that they can vary depending on the type of Eltabina bus you are booking. While the standard coach may have the basic amenities, the SVIP coach might offer much more. Since there are different types of coach options given by Eltabina and you can easily go to the Redbus website or app and book according to your choice!

Popular Routes Covered by Eltabina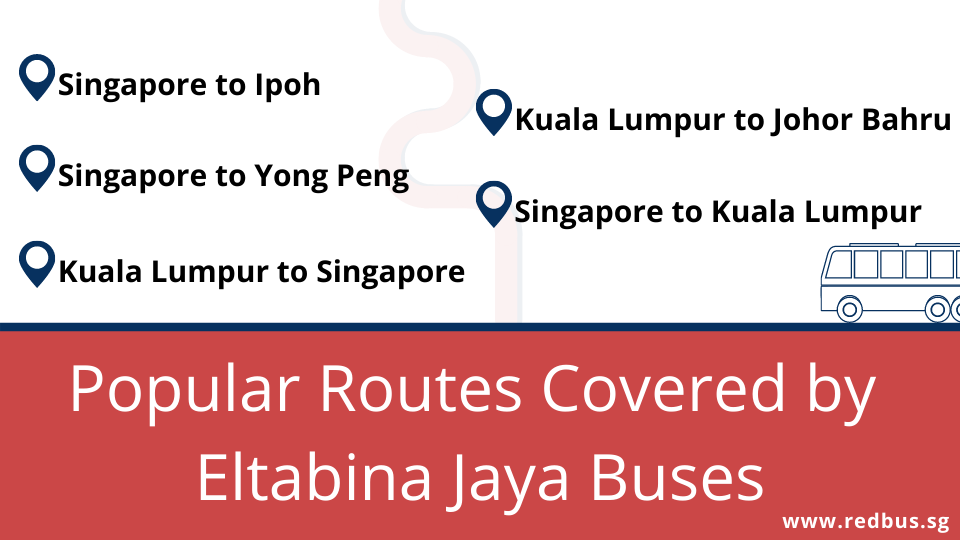 The Eltabina buses are known for their easy accessibility and vast coverage of Singapore. These buses provide hassle-free travel and services across all major routes in Singapore. They also have many multiple pickup and drop-off points throughout. Some of the most prominent routes covered by the Eltabina buses include the following.
Singapore to Ipoh.

Kuala Lumpur to Johor Bahru.

Singapore to Yong Peng.

Singapore to Kuala Lumpur.

Kuala Lumpur to Singapore.
These are only some of the popular routes covered by the Eltabina buses. There are several other routes covered by these buses, as they make around 40 trips per day. In fact, now they even cover routes from and to the airport. To check availability and know more about the bus routes, please check the Redbus app or website. Since these buses cover almost the entirety, you can choose the route according to your convenience and have a cheaper and less time-consuming trip!


Types of Buses Offered by Eltabina
Eltabina has a wide range of buses suited to every travelers' needs and comforts. All the buses are equipped with top-class amenities to make each trip comfortable, safe, and luxurious. There is a difference in the price range with each coach, so you can easily choose the affordable one without having to leave out quality and comfort. The following are the types of coaches offered by Eltabina:
Double-deck executive.

Single-deck charter.

Single-deck executive.

Van
All the above-mentioned buses have different seating capacities and amenities. They differ in cost; thus, you can go to the Redbus app or website to check out the buses available on your specific route and amenities.

Popular Cities Covered by Eltabina Buses
To provide seamless traveling, Eltabina buses offer services to different routes between Singapore and cover almost every major town in Malaysia. Some of the main covered places are as follows:
Kuala Lumpur.

Ipoh.

Yong Peng.

Seremban.

Johor Bahru.
How to Book an Eltabina Bus Ticket on Redbus?
redBus provides an easy and worry-free platform for every traveler. You can book an Eltabina bus ticket through the website or app within minutes. Follow these steps to have a smooth booking experience:
Open the Redbus website or application.

Enter the boarding point and dropping point of your travel.

Select the date of the journey and a return if required.

Choose the preferred bus and seat.

Click 'proceed to book' and enter your details to go further.

Apply coupon code if available and proceed to the payment page.
Visit www.redbus.sg to know more about how to have a stress-free and comfortable journey by booking a bus ticket online in Singapore.
Disclaimer: Bus timings, routes, and fares are subject to change. Please check the redBus app or website for any last-minute changes.