Sri Maju Express Bus Ticket Online Booking
Established in 1978, Sri Maju is one of the leading bus service providers in Singapore and parts of Malaysia. It is renowned for its exceptional service and comfortable travel experience. The operator's fleet of 128 buses plies across various routes in Singapore, Peninsular Malaysia, and Thailand. The bus Sri Maju is a popular choice among travelers as it is punctual and offers onboard amenities and maintained coaches.
This bus operator also provides different bus types to choose from. You can select from 36-seater regular buses, 25-seater buses with extra space, and high-decker mega luxurious buses with 21 seats that come equipped with individual entertainment systems, making your traveling experience enjoyable and exciting.
Sri Maju Express commits to providing superior service. It is reflected in its approach of regularly assessing passengers' needs and introducing new routes and facilities according to their feedback. Moreover, since it has a robust in-house support system and modern infrastructure, it is equipped to handle all operational challenges efficiently.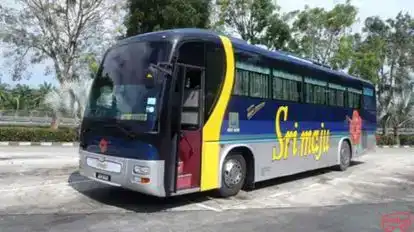 Why Choose Sri Maju Express Buses?
Comfortable and modern buses equipped with the latest amenities.
Competitive bus ticket prices, making it an affordable choice for budget-conscious travelers. To make it all the more better, Sri Maju partners with redBus, Singapore to offer incredible discounts on bus tickets online.
Safe and reliable bus services with a strong focus on passenger safety.
A comprehensive range of bus routes to popular destinations in Malaysia and Singapore.
Sri Maju bus ticket online booking makes your journey convenient and seamless. Its experienced staff, well-maintained buses, and commitment to excellent services make it a popular bus service in Singapore and Malaysia.
Convenient bus timings that suit the needs of most passengers.
Experienced and friendly staff who are always willing to assist passengers.

Amenities Offered by Sri Maju Buses
Sri Maju bus online booking can be done for several locations in Singapore. It includes Golden Mile Tower, Boon Lay, and Jurong East. This bus operator also offers services from Singapore to various destinations in Malaysia, especially Peninsular Malaysia. It includes Kuala Lumpur, Ipoh, Lumut, and Genting Highland.
Each of these buses is equipped with comfortable seating, air conditioning, and entertainment systems, making them the perfect choice for long-distance travel.
You can also enjoy several onboard amenities on Sri Maju buses such as -
air conditioning
comfortable seating
luggage storage
personal TVs
reading lights
charging points

Popular Routes Covered by Sri Maju
Sri Maju Express Kangar bus ticket online booking can be done for several bus routes in Singapore as well as a part of Malaysia. In Singapore, you can avail yourself of several routes by booking a Sri Maju bus ticket. It includes TUAS Causeway, Federal Road, Woodlands Causeway, and PLUS Highway. Sri Maju buses operate from various points in Singapore like from Golden Mile Tower, Jurong East, Boon Lay, etc.
Besides Singapore, the bus operator operates in other locations in Malaysia, like Kangar, Kuala Lumpur, Ipoh, Lumut, Genting Highland among others. Sri Maju Express buses also serve Kuala Perlis which is also the boarding point for ferry to Langkawi island in Malaysia. Now you can also book a ferry ticket to Batam and Bintan islands with redBus ferry services.
The popular routes served by Sri Maju Express buses are -
Sungai Petani to Kuala Lumpur
Alor Setor to Kuala Lumpur
Alor Setor to Ipoh
Kangar to Ipoh
Kuala Perlis to Ipoh
Kangar to Kuala Lumpur
Kuala Perlis to Kuala Lumpur
Alor Setor to Tanjung Malim
Popular Bus Terminals

The popular bus terminals for Sri Maju buses are as follows:
Shahab Perdana
TBS (Terminal Bersepadu Selatan)
Penang Sentral
Shah Alam Terminal 17
Larkin Sentral
Terminal Amanjaya
Melaka Sentral

Booking your Sri Maju bus ticket is quick and easy. You can book your ticket online to eliminate the need to queue at the bus station. Simply choose your desired route and travel date, select your preferred bus and seating, and pay using your preferred payment method.