Lapan Lapan Travel Bus Ticket Booking
Lapan Lapan Travel was founded in 1992 by Mr. Ng Sak Wai to provide outbound bus services that would connect Singapore and Malaysia. They cover various popular routes from Singapore to Malacca, Ipoh, Terminal Bersepadu Selatan (TBS) and many more. Running successfully for over two decades, they have provided reliable and prompt services to their customers. The company caters to all types of travel needs upon request ranging from backpacking, family trips, company recreation events, and many more.
History of Lapan Lapan Travel
Lapan Lapan Travel began its services in the year 1992. Since the year it was founded by Mr. Ng Sak Wai, Lapan Lapan Travel has not failed to impress customers and provide them with the most comfortable travel experience via bus. Many travelers use Lapan Lapan Travel for their bus travel needs due to their ability to provide punctual and time adhering buses. The operator provides buses that run across Singapore and Malaysia, bridging the two together and forming a dense network of routes between major cities. These buses traversed include Singapore to Malacca, TBS (Terminal Bersepadu Selatan), Ipoh, and Kuala Lumpur. The Lapan Lapan Travel review can be checked using trustworthy and transparent online bus booking websites like redBus.
Lapan Lapan Travel has a large number of trusting customers due to their ability to prioritize a passenger's comfort and requirements. The buses are equipped with air conditioning and seats that recline to provide an optimal level of comfort. A Lapan Lapan bus has a good amount of legroom and is always well maintained to ensure that its passengers have a pleasant travel experience.
In case customers have any questions or doubts regarding the Lapan Lapan bus booking or its specifications, they are welcome to get in touch using the contact details provided below.
Lapan Lapan Travels Bus Services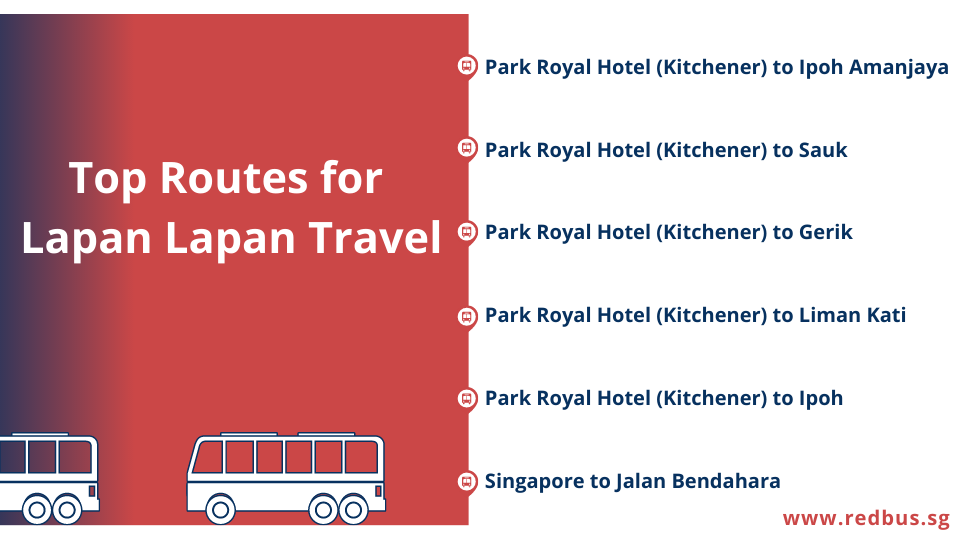 To travel between Singapore and Malaysia, Lapan Lapan Travel bus services are an excellent choice. They have plenty of buses that cover different routes and places in Singapore and Malaysia.
While traveling from Singapore, Lapan Lapan Travel offers 3 different destinations that have 10 drop-off points for passengers to choose from. These destinations are Kuala Lumpur, Malacca, and Ipoh.
Lapan Lapan Travel offers one destination while traveling from Ipoh. The bus leaves from Ipoh at 9:30 pm and reaches Singapore at 5:00 am. Lapan Lapan Travel runs five buses from Singapore to Medan Gopeng. The last bus departs at 9:59 pm and reaches Medan after a journey of 8 hours. So book your tickets accordingly in advance.
What to expect on a Lapan Lapan Travel bus?
Lapan Lapan Travel always prioritizes its customers and their luxury buses in Singapore are an example of it. The buses are equipped with reclining seats and spacious legroom. The coaches have an additional facility of an air-conditioning system for passengers. The buses are clean and well-maintained to ensure passengers have a pleasant journey. The bus price ranges from S$ 22 to S$ 37 depending on the customer's route and preference.
Lapan Lapan Travel Bus Types
The bus type that Lapan Lapan Travel operates is SVIP coaches on all its routes.
Online Bus Ticket Booking with redBus, Singapore
Customers can book their bus tickets online by logging on to www.redbus.sg or by downloading the redBus app. You can complete your payment via debit card, credit card or net banking. A number of redBus discount offers can be availed while booking a bus ticket online. In order to filter for Lapan Lapan Travel bus services on redBus, you can:
Firstly, enter the pick-up location and then enter the destination location

Enter the journey start date under the "Onward Date" tab

Click the "Search" button

You can now filter for Lapan Lapan Travel buses which should be available on the left side of the window
Visit www.redbus.sg to know more about how to have a stress-free and comfortable journey by booking a bus ticket online in Singapore.
Disclaimer: Bus timings, routes, and fares are subject to change. Please check the redBus app or website for any last-minute changes.