About Horizon Fast Ferry
Are you looking for a fast, secure, and comfortable way to travel between Singapore and Malaysia? Look no further than Horizon Fast Ferry. These modern, internationally certified, and marine-safe ships feature the latest technology, including hydrodynamically low-resistant monohull forms and fuel-efficient Caterpillar C32 engines that make the fleet of flex ferries fast, quiet, and stable. All ferries are fully compliant with high-speed HSC 2000 safety codes, ensuring safety and comfort to their passengers.

Horizon Fast Ferry offers exclusive access to the Harbour Bay Ferry Terminal. With minimal wait times for embarkation, disembarkation, and immigration, you'll be on your way quickly. Plus, you get access to a staffed and stocked VIP lounge and fast-track lanes for travelers in Batam with VIP or business class bookings.

Horizon Ferry tickets are reasonably priced, with one-way and round-trip tickets available for all routes. With Horizon Fast Ferry, you can enjoy a safe, comfortable, and affordable ferry ride between Singapore and Batam. Find the best deals and buy your Horizon Fast Ferry ticket online for your next journey with us. Check the Horizon Fast Ferry schedule, and fare and book Horizon Fast Ferry ferry ticket booking with redBus at low prices.

Horizon Fast Ferry operates from Singapore and Batam, offering easy access to popular destinations. Here are the terminals that Horizon Fast Ferry operates from:
HarbourFront Centre, Singapore
Harbour Bay Ferry Terminal , Batam

Horizon Fast Ferry Services
Horizon Fast Ferry uses modern, international-standard, seaworthy ships that meet high-speed safety requirements to ensure that passengers are safe.
As a result, the passengers enjoy speedy, peaceful, and stable travel. They also offer access to the closest terminal between Singapore and Batam, so you can board, get off, and clear immigration faster. In addition, they provide reasonable one-way and round-trip tickets for all routes.
Horizon Fast Ferry Travel Time
The Horizon Fast Ferry from Singapore HarbourFront Terminal to Batam Harbour Bay are available at an interval of 1-2 hours. The first ferry starts at 08:15 Singapore time and the last ferry leaves the terminal in Singapore at 21:35 Singapore time.
From HarbourBay Batam to HarbourFront Ferry Terminal Singapore, there are sailings available at every 1 hour 15 minutes or so. The first ferry takes off at 6:00 Indonesia time and the last ferry leaves at 20:30 Indonesia time. Schedules can change on the discretion of the operator. Hence, its best to keep a check before travel.

Amenities on Horizon Fast Ferry
Horizon Fast Ferry, provides excellent ferry services to passengers traveling between Singapore and Batam. The vessels have Economy, VIP and Business Classes with different seating capacities and perks -
Economy class -206 passenger seats with onboard television
Business class - 32 passenger seats with shared 40-inch televisions
VIP class - 4 passengers with private cabins with separate televisions, reclinable leather seats and footrests

Some of the exceptional amenities offered aboard the Horizon Fast Ferry are as follows:

Comfortable seating arrangements with ample legroom
Air-conditioned cabins with TV screens
Complimentary water bottle in business class and VIP class
Pull out tables in business and VIP class
Clean and well-maintained restrooms
Convenient charging ports
Fully stocked snacks and drinks counter
VIP private cabins
Priority disembarkation and business class lounge access for Business and VIP classes

With so many perks onboard, Horizon Fast Ferries is a favorite choice amongst leisure and business travelers. To make sure there are no hassle, you can book your return Batam to Singapore ferry ticket in advance as well.

Horizon Fast Ferry Ticket Price
A Horizon Fast Ferry ticket for a round trip Singapore to Batam will cost around SGD 81 for 1 adult. You can check for cashback and discounts on redBus if you opt for online ferry ticket booking.
Travellers must pay a nominal terminal fee over and above the ferry ticket prices to the ferry terminals in Indonesia and Singapore. The terminal fee varies by country and must be paid to the terminal operator at the ferry terminal.
While there are also surcharges and peak prices, the terminal fee has to be paid at the terminal unless stated otherwise, as included in the ferry tickets. It is advised that you check the ticket inclusions when making the ferry ticket booking online.


Horizon Fast Ferry Popular Routes
Horizon Fast Ferry is a popular ferry operator between Singapore to Batam and Batam to Singapore waterways route. However, this ferry operator is functional particularly for dropping off passengers at the Harbour Bay Ferry Terminal in Batam.
Horizon Fast Ferry Check In Time
It is best to reach the ferry terminal 1 hour prior to departure to save the hassle.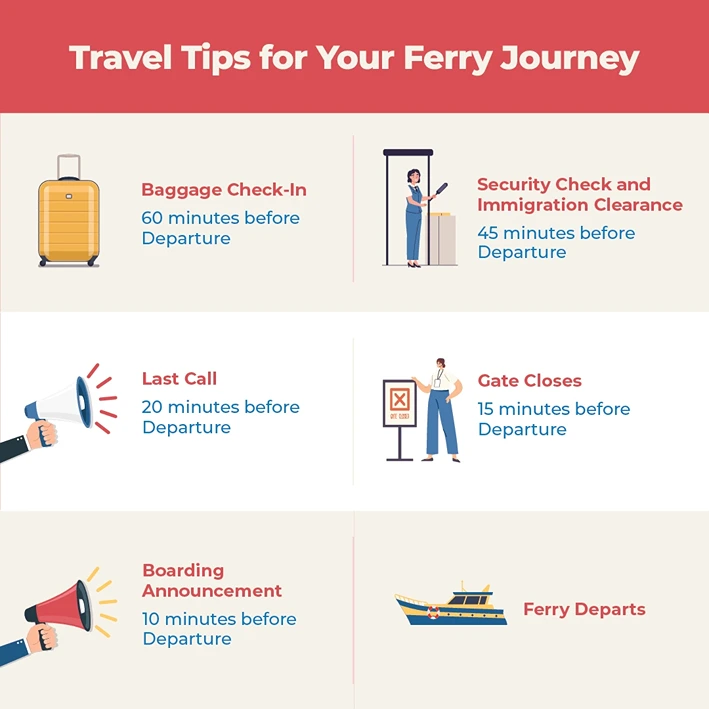 Horizon Fast Ferry Contact Information
61 Marina Coastal Drive
#01-07 Lobby C, Singapore 018947
You can contact them through their website or phone for any inquiries or assistance regarding their ferry services - +65 6276 6711