Ferries to Sekupang
Singapore and Indonesia are both known for the vast number of tourists that they attract every year and the beautiful waterways and scattered islands in the region are one of the reasons why. As a result of these many islands, water transport is often the most effective means of travel in this region off the coasts of Singapore and Indonesia, and the Sekupang Ferry Terminal is one of the water transport hubs that make this possible. Sekupang is located at the northern tip of the Riau islands just a stone's throw from Singapore.
Sekupang Ferry Terminal is a bustling transportation hub located in Batam, Indonesia. It operates from early morning till late at night and connects to various popular destinations such as Singapore, Tanjung Balai Karimun, and Tanjung Pinang. The terminal is equipped with modern facilities such as waiting lounges, ticket counters, and washrooms to ensure a comfortable journey for passengers.
There are several ferry services from Singapore Harbourfront to Sekupang. The trip from Singapore to the Sekupang International Ferry Terminal takes just around fifty minutes and with eight different times of departure to choose from, planning your journey from Singapore to Sekupang has never been easier.

How to get to Sekupang International Ferry Terminal

Apart from the ferries from Singapore to Batam, there are multiple ferries back to the Singapore Harbourfront from the Sekupang International Ferry Terminal. The city of Batam is well connected, and there are many ways by which you can reach the Sekupang Ferry Terminal in time for your journey back to the Harbourfront.
Sekupang Ferry Terminal is easily accessible by various modes of transport.
By buses -
You can also take public transportation such as buses from various locations in Batam, including Batam Center and Nagoya. The bus fare ranges from IDR 10,000 to IDR 20,000, depending on the distance.

By local cabs/taxis -
Several local taxi services operate in the city of Batam itself, and you can take a local cab to conveniently and quickly reach the terminal.
By shuttle services -
Most of the prominent resorts and tourist destinations in the region offer shuttle services for visitors at reasonable rates, and these buses will drop you off at the Sekupang Ferry Terminal with minimal hassle.

Popular Ferry Operators
Many ferries help people travel from Batam city to Singapore and vice versa every day. The popular ones are -
You can use the redBus app or website for booking ferry tickets .

Popular Ferry Routes

The Sekupang Ferry Terminal primarily connects the Indonesian city of Batam to Singapore, and there are multiple ferries both originating and terminating at this busy terminal. The most popular route that passengers take is the route from the Sekupang International Ferry Terminal to the Singapore Harbourfront.

Sekupang International Ferry Terminal ferry schedule

The Sekupang Ferry Terminal has multiple departures and arrivals to and fro Singapore every day. The first ferry departing for Singapore usually sets off at 6:00 am Indonesian time, and the last ferry from Sekupang to Singapore leaves twelve and a half hours later at 6:30 pm. These may change from time to time, and special trips may be scheduled on holidays. For more details and to choose your preferred ferry option, visit the redBus portal today.

All passengers must reach the pre-immigration gate promptly, at least fifteen minutes before the time of departure. Failure to do so might result in passengers being asked to take the next ferry leaving from the terminal.

Amenities at the Sekupang International Ferry Terminal

Although there is a large daily footfall at the Sekupang International Ferry Terminal, it is situated in a locality that is fairly cut-off from the rest of the city. Therefore, several facilities have been put in place for the benefit of the passengers.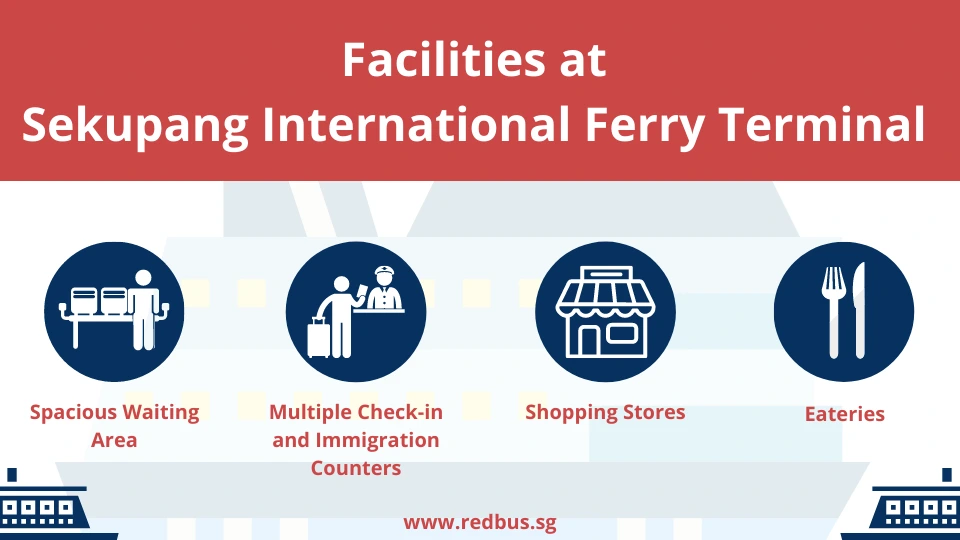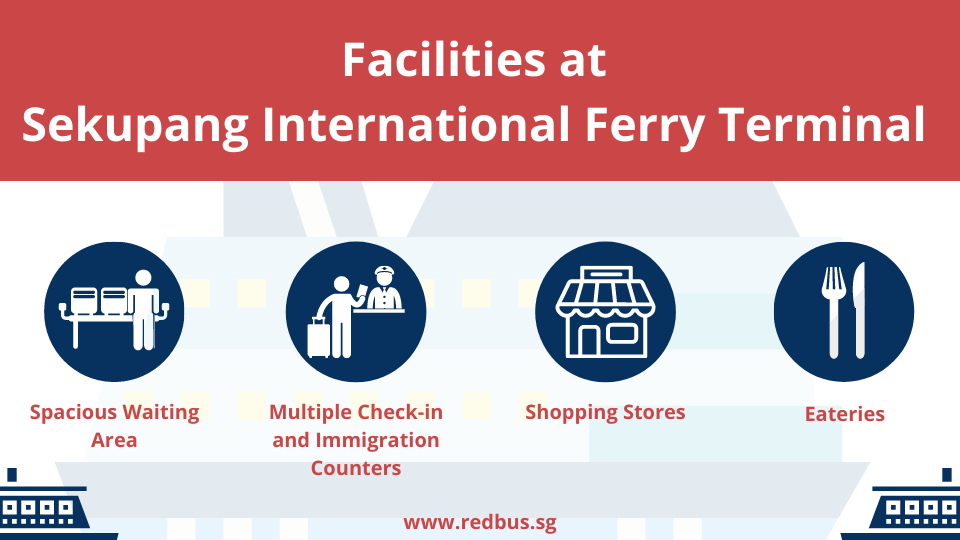 ·There is a spacious and comfortable waiting area.
·Numerous check-in and immigration counters.
·Shopping stores and eateries are also available for passengers.
Ticket counters
The ferry terminal is located near several shopping centers and tourist attractions such as the Sekupang International Ferry Terminal Shopping Complex, Barelang Bridge, and Nongsa Beach.

For a complete and comfortable travel experience from Singapore to Sekupang and back, opt for online ferry ticket booking on the redBus app or website. redBus has partnered with ferry operators and transport service providers to make your experience better. Also, book your return Sekupang to Singapore ferry ticket online while booking to save the hassle of standing in the queues at the terminal.