Harbourfront to Waterfront ferries are available at the most affordable prices. Harbourfront Centre is in Singapore while the Waterfront Ferry Terminal is located on Batam Island. Batam Island is part of the Indonesia-Malaysia-Singapore Growth Triangle. Island Hopping is now much easier with the help of redBus ferry services.
You can arrive at the Waterfront Ferry Terminal and then access Batam Island. There are a lot of tourist attractions and accommodation services in Batam to make your visit worth it. You can now check the schedule, images, etc., of ferries on redBus and can book a ferry ticket conveniently.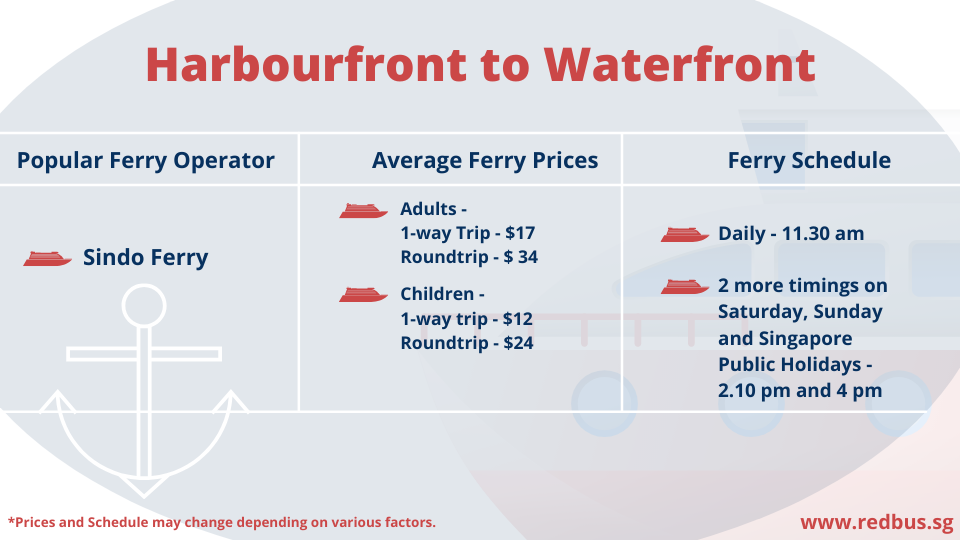 Harbourfront to Waterfront Ferry Operator
Sindo Ferry is one of the top ferry operators and known for having a lot of satisfied passengers. The acquisition of Penguin Ferry Services (PFS) in 2011 led to the incorporation of Sindo Ferry. They are known for providing state-of-the-art ferries from various locations in Southeast Asia.
Sindo Ferry has a well-maintained fleet of 16 modern ferries. One can also contact Sindo Ferry for charter bookings like contract charter, ad-hoc charter, etc. Sindo Ferry is also part of regional firms that bring more than 20 years of experience in the conveyance sector. Sindo Ferry has also capitalised on the 39 years of experience brought by PFS. redBus has recently collaborated with Sindo Ferry to provide ferry services to/from Singapore, Batam, Bintan Island and Tanjung Balai.

Harbourfront to Waterfront Average Ferry Prices
Harbourfront to Waterfront ferry tickets (including return trip) for an adult will cost you around SGD 34 while for children, the price is around SGD 24. If your age is 12+, you will be counted as an adult while booking Sindo Ferry tickets. The surcharge is included in the ticket prices mentioned above. However, the Singapore passenger departure fee and Batam Terminal fee (applicable in Waterfront) are not included in these ticket prices.
You can compare the prices of various ferries on redBus for your preferred route and can book affordable ferry tickets. redBus does not levy any middlemen charges on its users & you can also check the amenities provided onboard. The payment process of redBus is secure and can be trusted.

Harbourfront to Waterfront Ferry Schedule
Sindo Ferry provides a ferry at 11:30 AM from Harbourfront to Waterfront (via Sekupang) daily. On Saturdays, Sundays, and Singapore public holidays, Sindo Ferry provides two more ferries on this route. You can find ferries departing from Harbourfront to Waterfront at 2:10 PM and 4:00 PM on Saturdays, Sundays, and public holidays. The boarding point on this route is the Harbourfront Centre in Singapore while the dropping point is Waterfront Ferry Terminal, Bintan.
The travel duration of this route via a ferry is approximately 50 minutes. The travel duration can depend on the ferry type and weather conditions. redBus constantly updates its schedules to provide accurate schedule information to its users. You can check the Sindo Ferry Harbourfront to Waterfront schedule on the redBus mobile application or official website. There is no need to be signed in for checking the ferry schedule via redBus.

Things to do in Waterfront
Some of the best things to do in Waterfront City, Batam are as follows:
• Visit Marina Beach – Don't forget to enjoy the mesmerising sunset view at Marina Beach.
• Cable Ski – You can try the popular cable-pulled wakeboarding in Batam. The average rate for an hour of cable-pulled wakeboarding in Batam is around SGD 25.
• Resorts & Spa – There are many resorts & spas in the Waterfront city to relax. You can also opt for golf resorts for enjoying with your friends or family.
Key Points to Remember When Traveling by Ferry from Harbourfront to Waterfront
One of the most popular ferry routes between Singapore to Indonesia is the one between Harbourfront and Waterfront. These two ports are well-connected with multiple ferries and you can easily book.
Important things to note for the harbourfront to waterfront ferry:
Multiple ferries work on this route, with the most popular being Sindo Ferry.
The cost for a one-way trip for adults is $17, with the roundtrip costing $34. For children, it is $12 and #34 respectively.
Sindo Ferry has around 16 ferries that operate this route, and they are all safe and properly maintained.
The first ferry begins at 11:30 AM, with extra ferries on Saturday and Sunday, at 2:10 PM and 4:00 PM.
The dropping point is at Waterfront Ferry Terminal, Bintan.
The ferry takes approximately 50 minutes to complete, but the travel duration is also a factor in the weather conditions. We will update you on the same.
The harbourfront to waterfront schedule can be easily viewed on the redBus app for those who are interested.
There are many fun activities to indulge in at Waterfront City in Bantam. These include visiting Marina Beach, going Cable Skiing and enjoying the resort and spas by the waterfront.