Starmart Express Bus Ticket Online Booking
Starmart Express started its services in 1989 from Taiping (Perak) as an express bus service between Singapore and Malaysia. It is one of the operators that offer seamless bus services between Singapore and Peninsular Malaysia. It operates single-deck buses to different locations in Singapore and Malaysia. StarMart serves multiple bus terminals and drop-off points to boost customer convenience in many cities.
Usually, Starmart buses have a seating capacity of 27 passengers. All the buses are equipped with air conditioning to boost the comfort level of passengers. Starmart buses offer daily departures to several points in Malaysia and Singapore. Also, the cross-border buses are high in frequency to offer seamless connection. Some of the major locations served by StarMart buses are Singapore, Gopeng, Kampar, Kangsar, Kluang, and Malacca. StarMart Express covers almost all the locations in the Peninsular Malaysia region.

Advantages of Booking Starmart Express Buses
At Starmart Express, passenger comfort is a top priority. The company's fleet of more than 200 modern buses is equipped with comfortable seating, air conditioning, and modern amenities to ensure that passengers have a pleasant and enjoyable journey.
The company offers a range of buses to suit different travel needs, including the Starmart Express Bus and Starmart VIP Coach.
Starmart Express also offers a range of seating options to suit different preferences, including standard seating, executive seating, and sleeper seating. Whatever your travel needs may be, Starmart Express has a bus and seating option to suit your needs.
On top of this, Starmart Express partners with various bus ticket online booking apps like redBus. You can easily book a Starmart Express bus ticket on redBus and save more with incredible discounts and offers. Be it coach bus, express bus, or luxury buses, redBus provides an easy interface for online bus booking.

Amenities on a Starmart Express Bus
All Starmart coaches offer several amenities to passengers during their respective trips. Starmart online booking with redBus allows you to view the amenities offered by any Starmart bus.
Some onboard amenities offered on Starmart Express coaches include
a 2-point safety belt
120-degree reclinable seat
Luggage compartment
GPS tracking
emergency response plans to ensure the safety of its passengers at all times
Additionally, the company complies with the UN Regulation No.66 which is the latest safety standard for all coaches effective from year 2008.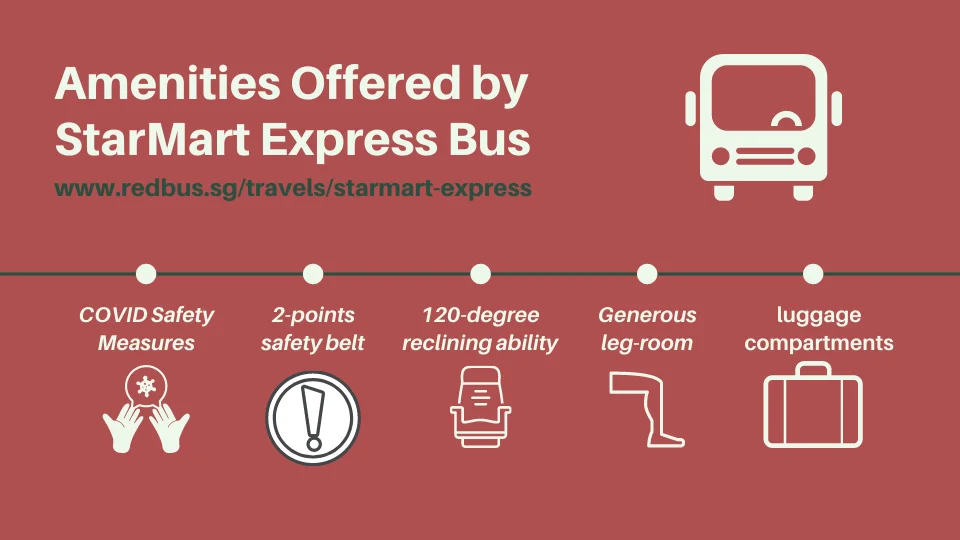 The amenities mentioned above may differ with the type of bus chosen to travel. The details are all available while booking the tickets through the application.

Popular Routes Served by Starmart Express Buses
Starmart Express operates a range of bus routes throughout Singapore and Malaysia, making it easy for passengers to travel to their desired destinations. Whether you're traveling for business or leisure, Starmart Express has a bus route to suit your needs. Be it Bus to KL or Bus to Melaka, Starmart Express serves a lot of popular routes across SG and Malaysia.
With its fleet of 200 coaches, Starmart coaches ply on the followung routes -

Cross-border routes
Simpang to Ipoh
Singapore to Hat Yai
Singapore to Butterworth
Local routes
Kajang to Bagan Serai
Taiping to Malacca
KLIA to Yong Peng
Passengers can check more routes on the redBus application when making a bus ticket online booking in Singapore.

Popular Bus Terminals Served by Starmart Express Buses
Starmart Express on bus terminals and stops in Singapore and Malaysia to offer nonstop bus services. Some of the top bus terminals/stops services by Starmart Express are as follows:
Kajang Bus Terminal
Hentian Raya Bagan Serai
Ipoh Amanjaya
Stesen Bas Kulim
Terminal Bas Yong Peng
Booking your Starmart Express bus ticket is quick and easy. You can book your ticket online, eliminating the need to queue at the bus station. Simply choose your desired route and travel date, select your preferred bus and seating, and pay using your preferred payment method.
Starmart Express is a top choice for bus from Singapore to Malaysia. Be it KL to Singapore bus , Malacca to Singapore bus, bus from Singapore to Malacca , or bus from Singapore to KL , you can find Starmart Express buses on each of these routes. You can avoid standing in a queue, and book Singapore bus tickets online for Starmart buses with us.
Disclaimer: Bus timings, routes, and fares are subject to change. Please check the redBus app or website for any last-minute changes.